The Institute of Medicine of the National Academics reports that about 100 million Americans experience long-lasting pain which is costing the nation at least $635 billion a year in medical bills, sick days and lost productivity.  The annual cost of chronic pain exceeds the yearly costs for cancer, heart disease and diabetes reports health economists from John Hopkins University.
More Americans are turning to over-the-counter ("OTC") patches, creams, gels, foams and sprays to safely relieve pain as the topical pain management sector is gaining greater market recognition.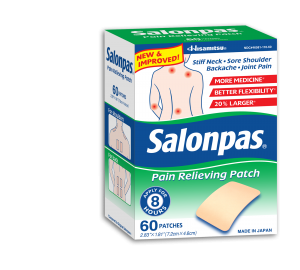 Topical analgesics offer controlled pain relief with fewer adverse interactions with other medications.  Consult your doctor or pharmacist if you have any questions about drug interactions and the drugs you are taking.  During the last couple of years there have been a number of pill recalls in the United States.  Additionally, American consumers have a growing concern about what they are putting into their bodies and are looking for other options in pain relief. They are realizing that it may not be a great idea to pop a pill at the first twinge of pain whether it is muscle and joint pain, back and knee pain or arthritis aches.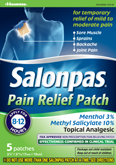 A transdermal patch is a medicated adhesive patch that is placed on the skin to deliver a specific dose of medication through the skin and into the bloodstream which can promote healing to an injured area of the body. The Salonpas® Pain Relief Patch is the first and only 12-hour OTC topical pain reliever on the market labeled to treat mild to moderate pain. Hisamitsu has specialized in transdermal drug delivery system technology since the introduction of its original line of patches in 1903. Hisamitsu's Salonpas brand of products is exported to over fifty countries.
For more information on living a healthy lifestyle, please "like" Salonpas on Facebook and follow us on Twitter!