Few would have predicted that a Lenin scholar from Siberia who was born in the heart of the Cold War would ultimately create biomechanical innovation called The Pelvic Clock.  Salonpas sat down with Yana Blinova, a rhythmic gymnast turned biomechanics expert and inventor, to discuss the personal health motivation behind creating The Pelvic Clock:
How did you go from gymnastics to biomechanics?
I received my Master's in Exercise Science back in the 80-s in the Soviet Union. Together with anatomy, physiology biochemistry, and sport medicine, biomechanics was the main subject I was interested in. Half of my classmates work in physical therapy, but I was selected to coach at Olympic School of Rhythmic Gymnastics because as a Lenin scholar I graduated top of my class.  A big influence on my life were my mother and father who are world class coaches. When I was growing up, they talked about Biomechanics at the dinner table so it was ingrained in my DNA. You cannot teach the movement without biomechanical analysis.  It's an equivalent of teaching writing without knowing proper grammar.
What was the inspiration behind your creation of the Pelvic Clock® Exercise Device?
The Pelvic Clock exercise is very well known to Pilates and Feldenkrais practitioners, personal trainers, and chiropractors.  Almost twenty years ago. my world was turned upside down when my doctors recommended an invasive spinal surgery to repair my back injuries and ailments: spondylolysis, spondylolisthesis, herniated discs, lumbar spinal stenosis, and sciatica from my gymnastic career. I decided to invent a tool for my own personal use based on the Pelvic Clock exercise which would not only make that surgery no longer necessary, but which would also relieve my back pain to the extent that I no longer even needed to use pain or anti-inflammatory medications.
How long did it take the Pelvic Clock to go from inspiration to reality?  I.e., how long did it take to bring this to market?
It took almost two years experimenting out of modeling plastic in my tiny New York kitchen, it was never intended for the marketplace. I used it at home for few months and realized that I stopped taking ibuprofen. I then tested it out on my private clients for a year where it worked as well on their backs as it did with mine.
Patent application is a very serious monetary and time commitment. I wouldn't had the courage to invest my life savings if I didn't believe this device works and would help many people in pain.  Almost a year between patenting process, tests, industrial design and prototyping, mold building, and finally manufacturing.  I had to learn to draw in 3D (CAD) to be able to explain what I wanted to savvy engineers laughing at my "plastic pie." Thankfully they were not immune to back pain and were motivated and collaborative. Without their knowledge of plastic, rubber molding the device wouldn't become so functional, light, durable and ergonomic.
What type of pain does the Pelvic Clock address and remedy?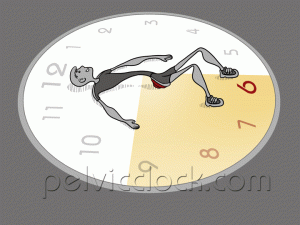 The device is for dull chronic pain. I use it for Lumbar Spinal stenosis and pain caused by Sacroiliac dysfunction to prevent Sciatic nerve inflammation from getting out of control.  People with acute Sciatica pain should wait till their inflammation is over to start using the device.
Is the Pelvic Clock being used by physical therapists?
Yes. Physical Therapist specializing in spinal stabilization and women's health have started using it.  It helps them to be more productive because the device shortens the explanation of advanced exercises to a matter of minutes. It seems to be very intuitive, making it hard for patients to "cheat" or make mistakes.
We see the Pelvic Clock being sold on Amazon.com. What are other channels are you looking into to sell the Pelvic Clock?
Amazon is our main platform for the moment, but we also use Ebay for our international customers.  I hope Pelvic Clock will be discovered by Brookstone, QVC, catalogues, Modell's and others.
Are you working on any new inventions?  If so, what?
My mind is always whirling with new ideas since every exercise session is a scientific experiment for me.  I've been making exercise aids in my kitchen for years but not all ideas are good enough to be brought to the market.
What is your exercise regime today?
I swim 4-5 times a week and practice basic rhythmic gymnastics to maintain coordination, agility, flexibility, and balance.  No machines or weights. The ancient concept of Gymnastics is in using your own body weight. It's still valid.
What is your diet like?
My diet is semi-vegetarian.  For people with chronic back pain keeping their weight under control is essential.  This is a topic for a long conversation.  I have been in close contact with nutritionists all my life and am very interested in the subject. Soviet Teams had nutrition advisers back in the 70's, the Italian Olympic Team had a nutritionist and most sport teams have this privilege, so it's always been part of my life.
For more than two decades, I have started my day with flax seed and fruit.  I eat tons of leafy greens, with little or moderate protein (fish, eggs, goat cheese.) I make simple vegetable soups and drink them throughout the day along with fresh green juices. Snacks include seeds and nuts. I consume very limited gluten, although I love pasta but limit myself to once a week.  And dark chocolate every day.
For more information on living a healthy lifestyle, please "like" Salonpas on Facebook and follow us on Twitter and Google Plus!