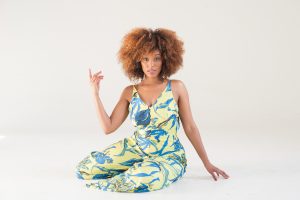 The Salonpas® "Wellness Warriors" series connects with people on the forefront of health and wellness.  In this installment, we speak to feminist, actress and online personality, Shelah Marie, co-creator of Curvy, Curly, Conscious who overcome her personal battle with depression through yoga and meditation. Her focus on meditation and yoga during depression is what sparked the Curvy, Curly, Conscious movement and has generated a following of over 1 million on social media.
What inspired you to co-found Curvy, Curly, Conscious?
I wanted to create a physical space to connect with the rich community of women that I connect with. I also thought it was very important to create a full-day event, to give women an opportunity to spend time on them and pour into themselves.
Tell me about the #curvyncurly movement? What is it all about?
#curvyncurly is about accepting yourself, from the inside out, exactly as you are — right now. It's about loving your body before you lose those 15 lbs., or before your hair gets to a certain length. It's feeling successful before the world has deemed you so. I wanted to encourage women to find every opportunity to love & accept themselves more fully — especially on a medium like Instagram where you can see a lot of images that make you feel less than.
How does your background as an actress and feminist play into Curvy, Curly, Conscious?
I have been an actress since I was a child. I remember rushing home to watch Oprah and thinking, "That is going to be me one day." I take my skills as a performer with me wherever I go. Whether I am writing meditations with the skills I used in playwriting, speaking or making videos — I am always consciously aware of how I am delivering the message. In terms of feminism it's foundational to all that I do. I love women. I am an advocate for women. What I do with Curvy, Curly, Conscious is create spaces for women to live happier and healthier.
Can someone with no yoga or meditation background benefit from attending one of your events?
They actually benefit the most. My work is best received by beginners and people with little to no experience. I offer a very low barrier of entry in to mindfulness practices so most people jump right in with no problem.
Your Sunday night Periscope Soul Study broadcasts have become very popular. What do you think is inspiring people to attend your social media events?
#soulstudywithshelah has transitioned to YouTube so people can easily watch and share the videos. People attend my social media events because I speak very candidly and honestly on topics that may be considered taboo.
How do you hope women will benefit from attending your events?
I hope women leave feeling lighter, uplifted and more equipped to create happy and healthy lives.
For more information on living a healthy lifestyle, please "like" Salonpas on Facebook and follow us on Twitter and Google Plus!