The Salonpas® "Wellness Warriors" series connects with people on the forefront of health and wellness. In this installment, we speak to Dr. N. Lawrence Edwards—a specialist in internal medicine and rheumatology. Dr. Edwards is chairman of the nonprofit organization, The Gout & Uric Acid Education Society. He is also a professor of medicine in the Division of Clinical Immunology at the University of Florida in Gainesville, Florida—and serves as program director of the Medicine Residency Training Program and vice chairman for the Department of Medicine at the University.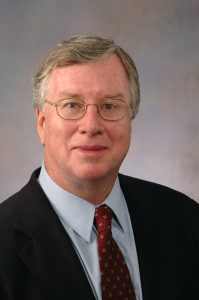 What is the role and purpose of The Gout & Uric Acid Education Society?
The Gout & Uric Acid Education Society (GUAES) is the leading nonprofit organization dedicated to arming the general public and medical professional community with information and resources on gout—with a goal of improving the overall quality of care and minimizing the burden of this extremely painful and serious form of inflammatory arthritis.
I formed GUAES  in September 2005 in response to a general lack of information and resources on what gout is and how to properly treat it, despite an increase in prevalence of the disease. The GUAES Board of Directors is comprised of some of the nation's top rheumatologists and other specialists who follow the American College of Rheumatology (ACR) guidelines for the diagnosis, treatment and management of gout.
GUAES offers complimentary and non-branded resources for both patients and medical professionals through its website—GoutEducation.org.
What led you to become one of the medical industry's foremost experts on gout?
My research mentors during my fellowship training at the University of Michigan were Dr. Irving Fox and Dr. Bill Kelley. Both were internationally recognized experts in purine metabolism and gout. They made the topic interesting to me and their passion has encouraged me to stay focused on this topic for the past 40 years.
Do people have misconceptions about gout?
One of the biggest problems surrounding the appropriate care of gout is the number of misconceptions and myths associated with this disease. Many patients believe that gout is caused by overindulgences in food and drink, and so they suffer from the idea that their gout is a self-inflicted disease. They end up not reporting their symptoms to friends, or even their doctor, out of embarrassment. While gout is associated with obesity and flares of the disease can be precipitated by overconsumption of certain types of food or drink, gout is basically a genetic metabolic disease. People who are thin and athletic, or vegetarian and don't drink alcohol, can still get gout. Another widespread misconception that interferes with good gout treatment is one that's held by a lot of health care providers – that gout can be well treated by just treating the symptoms of gout and not using medications to drive down the high uric acid levels in the blood. If the focus is only on treating symptoms, then the underlying disease process will steadily worsen over time.
What are the top signs and symptoms of gout?
When most people think of gout they envision a painful great toe. Gout is the most common form of inflammatory arthritis that can affect any joints in the legs or arms, even the wrists. It is typically an excruciating pain that can last for 4-6 days. Patients generally cannot walk if the flare involves the foot or leg, or use the arm if it involves any joint in the upper extremity, which can often lead to patients calling off for work. Over time, if left untreated, the flare-ups of this severe pain become more frequent and last for longer periods of time. After a decade or more of these kinds of waxing and waning symptoms, gout can progress into a more chronic form of arthritis, where the symptoms are continuously present and the joint can be destroyed.
What lifestyle recommendations can reduce or eliminate the potential of gout?
The most important lifestyle modifications for gout include the following:
(1) Weight reduction for people who are overweight
(2) Following a generally healthy diet that is high in vegetables, fruits, nuts, fish and chicken and low in red meat, sweets and shellfish. A Mediterranean diet that includes all of those is one of the best models to follow
(3) The elimination of sugar-sweetened soft drinks and tea and moderation of alcoholic beverages – especially beer
(4) Daily exercise, at least 30 minutes a day, most days of the week
Though these lifestyle recommendations are good advice for the general population, they are particularly helpful for people with gout. Adhering to these guidelines, however, will rarely eliminate gout completely.
Why do you believe gout incidence is on the rise?
The epidemic of gout that we are currently experiencing parallels a rise in other metabolic diseases that are associated with gout, like obesity and type 2 diabetes. Higher usage of low-dose aspirin, some lipid-lowering drugs and thiazide diuretics in the general population also contributes to a higher incidence of gout.

For more information on living a healthy lifestyle, please "like" Salonpas on Facebook and follow us on Twitter and Google Plus!