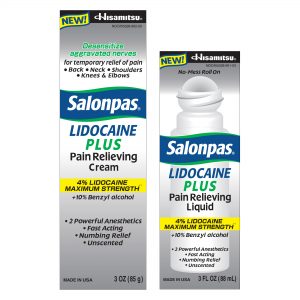 For anyone suffering from pain, the holidays can exacerbate their symptoms with all the planning, shopping, cleaning and partying.  A stocking stuffer from Santa that is filled with Salonpas will reduce pain and may foster holiday cheer! New, cost-effective solutions for pain management awaits aching sufferers with the introduction of the Salonpas® Lidocaine Plus Pain Relieving Cream and the Salonpas® Lidocaine Plus Pain Relieving Liquid.
"Hisamitsu's goal is to provide strong, safe, long-lasting pain relief through the use of affordable topical medicines," says John Incledon, President  & CEO, Hisamitsu America based in Florham Park, New Jersey.
"We do this by concentrating and specializing in creating new research-driven medicinal products and formulations based on topical drug delivery systems. We developed the Salonpas® Lidocaine Plus Pain Relieving Cream and the Lidocaine Plus Pain Relieving Liquid with two powerful anesthetics: 4% lidocaine which is the maximum strength lidocaine allowable without a prescription and 10% benzyl alcohol which is fast-acting."
"Hisamitsu, the manufacturer of the Salonpas products, sent over samples of the new unscented Salonpas® Lidocaine Plus cream and liquid products that are now available in retail outlets," said Dr. Bob Arnot, award-winning broadcast journalist, author and paddleboard champion.   "I like that I can easily apply Lidocaine Plus Pain Relieving Liquid, with its roller ball applicator, after a paddleboard session without any sticky feeling.  The Lidocaine Plus Pain Relieving Cream helps address my 'tennis elbow' and general pain management issues.  Both products include the maximum strength lidocaine available without a prescription along with Benzyl Alcohol which works quickly to desensitize aggravated nerves."
Please click the links below to recent television segments featuring Salonpas as ideal stocking stuffers!