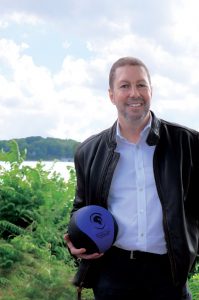 "WE FOUND SOMETHING." When Peter Green first heard those terrifying words his entire life changed. The diagnosis was brain cancer. It shook him to the core. His dreams came to a halt. Right then, he knew he had to concentrate on getting well for his young son and those who loved and counted on him.
In his book, "My Cancer Journey: From Discovery to Recovery," Green weaves together all the pieces of his life—family, friends, romance and work—and the dramatic changes they all undergo after his diagnosis. He unabashedly shares his battle with brain cancer in a no-holes-barred, truthful and emotional look into his personal journey. This insightful book covers the gamut of emotions cancer patients feel and the exercises and techniques that helped him through this difficult period in his life.
Along with the publication of his book, which published this week, Green is launching Workout Through Cancer (WOTC), a company dedicated to building a community of people affected by cancer providing hope, inspiration and guidance through the sharing of a unique exercise program. Oncology approved, this is the only exercise program designed specifically for those going through their cancer journey resulting in improved body and weight management; maintenance of cardiovascular function; mobility/flexibility; and mindfulness and focus, which help reduce depression and emotional pitfalls.
Salonpas sat down with Wellness Warrior Peter Green to learn about how he is thriving today and how he's helping others:
When were, you diagnosed with brain cancer?  What is your prognosis today?
On Oct 30, 2005 doctors found spots on my brain. On Nov 30, they did the biopsy and that same day, I was diagnosed with B – Cell Lymphoma. My brain cancer has been in remission for 12 years. So at this point, I am feeling optimistic that my prognosis is good.
How were you able to manage to keep up an exercise program during chemo and radiation?
I could keep up with my exercising because first, I knew that by doing them it would better help me get through my treatment. Second, I felt more in control with my treatment as I now saw myself participating, along with the doctors, in my own treatment.
Third, and most important, the exercises kept the world of those who loved me – family, including my 10-year-old son – from imploding over my cancer. Now, they saw I was fighting and determined not to let the cancer defeat me
The exercise program, which I developed, where very adaptive to my particular circumstance. Because my immune system was too compromised for me to be out in the public or in a gym, I was able to do them in my home. They are exercises that are very core and mindful and allowed me to be able to, in some form, do these workouts every day.
What was your inspiration for writing your book?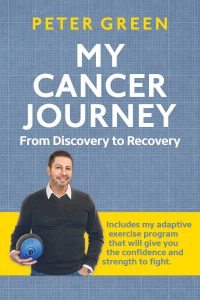 I had been in media sales for more than 20 years and felt the need to do something more impactful with my life. It had been close to 11 years since I dealt with the aftershocks of my cancer. And so, I decided to write a book and share the exercises I did while I was going through my treatment and which I continue to do today. As I started to write the book, it brought back with alarming clarity, many of the most difficult and painful memories I had buried. Thinking back on the months of my cancer treatment made me realize how powerfully I had struggled to repress much of what was most real and human about the experience. The more I worked on the book the more memories returned. Once again I was transported to the 7th floor of Sloan Kettering with every sense reawakened. I could smell the disinfectants. I could see the faces of other patients, much older and much younger, walking or being wheeled around the ward, enduring the ordeal of their own treatment. I could hear the cries out in the night ("It hurts!" "Where am I").
As these memories came flooding back, it was at this point I realized I needed to expand beyond the exercises and share my whole story and hopefully help those going through their cancer journey. The emotions I felt, in treatment and post treatment, are what all cancer patients, in one way or another, experience along with their loved ones. The feeling of fear. The feeling of loss of control. The feeling of how do I continue to carry on the responsibilities I had before my diagnosis, and what will my life be like if I survive living post cancer.
Once I recognized this I became much more passionate about writing my book, which now become more of a mission for me as to how I could help people hopefully survive their own journey with cancer.
My brother had brain cancer.  Medical marijuana was not legal in NY then and he grew his own. It helped him with anxiety and seizures.  What is your POV on marijuana for cancer patients?
I have been involved with many cancer patients in treatment and post treatment. I believe whatever helps that person deal with the physical and emotionally whiplash that cancer provides should be welcomed. It is hard not to support the use of medical marijuana. I would further say that those who don't, clearly have never had a loved one or themselves go through chemotherapy or radiation. The physical effects and emotional toll can be overwhelming and lead to even more stress for the patient and their families. I will preface that; if what they are doing doesn't harm their ability to get better (meaning it doesn't further weaken their body to endure the treatment), and subject those they love to a situation that also might be overwhelming and harmful.
Some cancer patients are prescribed drugs which make weight maintenance difficult or impossible.  How can you counter the negative bloating effects of some of the drugs with diet and exercise?
There is a lot of material today being published about diet and exercising while in cancer treatment that will be beneficial to patients. Back in 2005 when I was diagnosed the medical community was not talking about exercise while going through treatment. However, today, that is no longer the case and now has been fully embraced by the medical community.
There are very specific food groups that have been recognized that assist with specific cancers. Not all cancers are similar and some types of food that help one form of cancer might have an opposite effect on another. It is critical for those cancer patients to work with a licensed RN nutritionist. I have learned that anyone can call themselves a nutritionist. It takes two years of post-graduate work to earn your RN license. I would say trust those who have done their work and provide you a safe and useful diet.
In regards to exercise, I believe it can only help, as it helped me. I understand that people and cancer come in all forms and sizes and what might be doable for one person isn't for another. That is okay as exercise, as well, comes in many variations: walking, stretching, light weights, and just standing up and sitting down. The purpose is to move and to breathe. As I write in my book, My Cancer Journey: From Discovery to Recovery," the exercises are designed and very adaptive, allowing people to do them on the ground, or sitting in a chair. Exercising is so critical, not only for the physical benefits, but also helping the emotional issues of stress and depression.
Here are some of the benefits the American Cancer Society states in regards to exercise:
Improved body and weight management
Maintenance of cardiovascular function
Mobility/Flexibility
Mindfulness and focus which help reduce depression and emotional pitfalls
What were the primary exercise and techniques that helped pull you through your darkest days?
In 2005, when I was going through treatment, exercise was not being prescribed. That has all changed. I believe any movement that gets your blood circulating through your system is good.
The exercise routine I developed was a combination of exercises that incorporated stretching (flexibility), and some light weights that involved building up my chest, arms and forearms (muscle mass). Breathing patterns through any exercises are critical (stress reduction). Breathing not only lets you perform the exercises better but reduces the feeling of stress. Taking a deep breath and breathing out in a controlled manner does wonders. If you can take walks and incorporate aerobics into your routine (cardiovascular) this becomes a great compliment the other exercises.
The key is to do something. 90% is just showing up. For many this is the hardest part. For me easing myself off the couch that first time I returned from my first chemotherapy session, and after spending hours on my couch. The next 10% is the action I chose to take as I eased myself on to the floor and began to stretch my body.
Describe a typical day for you before cancer entered your life and describe a typical day today.
Before I was diagnosed with cancer I was a leading sales executive in the digital media world. I managed more than 40 people. On a typical day I would get up at 5:30 AM and take a 40-minute train ride into NY City. My days would be nonstop, attending meetings, going on sales calls with my team, leading training. At a minimum I would be visiting our multiple national offices two to three times a month. My nights would include business dinners and industry events. A normal work week had me returning home after 11:00 PM at least 3X a week.
As of two years ago when I left my last job in NY City I decided to write a book about my own cancer journey.  "My Cancer Journey: from Discovery to Recovery" and the result of which is my recently launched company workoutthroughcancer.com  A business dedicated to those and their families going through their personal cancer journey.
My work days have changed considerably. I no longer commute into NYC but work out of my home town. I am working just as hard, putting in 12 hour days, if not more, but I feel a new sense of empowerment and purpose. I wake a bit later than 5:30. I have more control of my day. I spend most of it travelling around my town visiting the multiple vendors I work with who are part of building out my company. The lesson for me is I loved what I did for more than 20 years in the media world. But now working for myself and having a mission I am passionate about doesn't feel like work. When I come home at night feeling exhausted it is the type of exhaustion I welcome.
What are your three top tips for newly diagnosed cancer patients to help them move from paralysis and fear to positivity and healing?
I think as individuals everyone reacts differently to when they hear the words "We found something." Reflecting back 12 years, these are my three tips:
1 – When you hear the diagnosis just let the words run through you. Don't feel like you must hold back, cry, scream, get mad. But then you need to take control and decide to fight–not only for yourself but for those that love and depend on you.
2 – You need to realize that you are now are part of the "cancer club," and   will go through some form of treatment and, hopefully transition into a cancer survivor. Being a cancer survivor you will find might be harder. You need to acknowledge that for the rest of your life you will be living in a world with less certainty. It is how you decide to deal with this reality and how you face it, find meaning in it and move forward with it.
3 – The third tip is easy. Just breath. The ability to breath, move your body, incorporate exercise into your life, and not just when you were going through cancer. Spend time with those that make you feel good and lose the ones that don't. Laugh. It's the best healer of all.
For more information on living a healthy lifestyle, please "like" Salonpas on Facebook and follow us on Twitter and Google Plus!