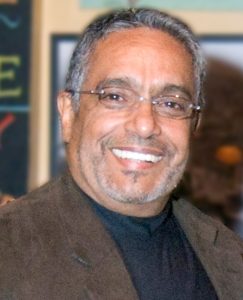 Al Morales is the founder and CEO of Yorkville Sports Associations, a leader in facilitating sports leagues for corporate companies for 40 years.  Salonpas® salutes Al Morales as a Wellness Warrior whose goal is promoting health and wellness in the workplace as well as helping organizations build camaraderie and improve communication among colleagues.  We sat down with him to learn more about his mission:
What was your catalyst to found the Yorkville Sports Association? 
I founded Yorkville Sports Association (YSA) in 1978 when there very few companies offering social sports. I saw a need for offering community sports leagues for companies and organizations in New York City. I wanted to create an organization that was equipped to help companies form these teams to better both interpersonal relationships and fitness levels within a workplace.
What is the process to become a participating company with YSA?
When a company is interested in forming a team, they can simply contact our membership department. The YSA team will handle everything from that point forward including the creation of season-long schedules and providing game officials.
What is the benefit to a company of having a company softball, touch/flag football, golf or kickball team?
There are a number of benefits to a company having a sports league. One of the main benefits is that it helps build camaraderie and boost the overall morale among employees in the workplace. Companies that have established a sports league have reported that the communication and interpersonal relationships among colleagues of all levels have improved as well.
With depression and obesity identified as the top two chronic health conditions driving an employer's health care costs, there are financial benefits to be reaped as well.
A 2016 U.S. Chamber of Commerce report posits that a well-designed corporate wellness program has an ROI, over time, of $1.50 to $3.00 per every dollar spent.
Your company serves New York but what resources are available to companies outside of NY who want to align with an association like yours?
Yorkville Sports Association (YSA) serves the New York City as well as the surrounding Westchester County region.  When I first founded YSA, there was little -to -no competition offering these types of services. However, the trend is catching on and companies are recognizing the immense benefits that sports leagues can provide to their employees. Because of that, more organizations like YSA are popping up in markets across the country and I believe the field will continue to grow.
What advice can you give company leaders who want to start up team sports at their company?
My advice is to get employees excited about the creation of a company team. After building some excitement, gauge what sport they would be most interested in. Once you have an idea of what type of team you are looking to start, get in touch with YSA's membership department and the team will guide you along the way.
For more information on living a healthy lifestyle, please "like" Salonpas on Facebook and follow us on Twitter and Google Plus!