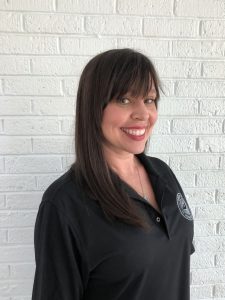 Meet breast cancer survivor and Texas Chapter Lead of the Steel Mags sorority – Natalie Holland – a woman on a mission to bring more wellness to the world. At age 36, amidst a busy adult life with kids and an often-deployed Green Beret husband, Natalie Holland found that she was diagnosed with breast cancer. Her diagnosis was not genetic, rather, it was linked to environmental causes. This finding set Natalie into a frenzy – researching  rising cancer rates and the link to environmental causes — and led her to write the book, Scarred but Smarter: A Cancer Memoir & Get Healthy Manifesto.
Through her blog, House of Healing, Natalie provides a space for anyone seeking to feel happy, healthy and whole through wellness information alongside stories of perseverance. As the Chapter Lead in Texas for the Steel Mags sorority, a national group established by the Green Beret Foundation, Natalie dedicates her time to help addressing the unique and critical needs of female family members of United States Army Special Forces soldiers.  Salonpas Wellness Warrior, Natalie Holland, discusses her path to wellness and how she inspires others to persevere:
What were the environmental causes behind your breast cancer diagnosis?
There was no acute exposure to one thing. It was a lifetime of small doses from things like pesticides in food, ingredients in personal care products, ingredients in cleaning products and so on.  Cancer rates since the 1950s have skyrocketed. In the 1960s, the incidence of breast cancer was 1 in 20.  Today, we know that it is 1 in 8.  Only around 10% of breast cancer cases have a direct genetic link. That leaves the rest to the environment.
What was the catalyst for you to write your book, "Scarred but Smarter: A Cancer Memoir and Get Healthy Manifesto." 
The book actually began as my personal journal.  As I was enduring treatments, surgeries and set-backs, I needed a way to sort my thoughts and emotions.  Writing helped.  On some of my toughest days, I looked to those warrior women who had gone before me.  Their stories let me to know that I was not alone, and their encouragement gave me a great sense of hope.  I realized that with every story shared, someone somewhere learns something new.  So I decided to share my story.  Knowledge is power, and sharing it can create a critical mass for positive change.  As for "Scarred but Smarter," what began as a catharsis for me evolved into more than just my personal story.  After my oncologist let me know that it was the environment that pulled the trigger on my cancer, I was hungry for knowledge.  I began to research rising cancer rates and the link to environmental causes.  Once I learned that our ongoing chemical exposure to things present in our everyday environment is having such a negative effect on our health, I wanted to share that information.  My intent is to help others understand how to both identify and replace harmful ingredients in their daily routine.  Small changes add up!
Why did you start your blog House of Healing?  Who are your readers?
The idea for House of Healing came about from piecing myself back together after breast cancer.  I was left scarred in many ways, but I also found myself smarter.  Smart enough to know that we need better prevention strategies, better treatments, and better survivorship.
After treatment ended, I was sent on my merry way – but I wasn't the same person.  Treatment left my body changed, my mind foggy, and my spirit dulled. I wanted to create an online destination that was full of information for working with the body as a whole – inside and out – to spark healing and to curate sustainable wellness.
I think my readers include people seeking to feel happy, healthy, and whole  – whether they have experienced cancer or not.   The blog features wellness information alongside stories of perseverance.  It is a place for healing body, mind, and spirit.
Military Spouse Appreciation day was celebrated this year on  May 11th.  What can we all do every day to ensure that military spouses are appreciated?
Never underestimate how appreciated a simple "Thank You" is.  Because they are often grin-and-bear-it kind of people, the extra work and worry that can come with being a military spouse may go unnoticed.   Acknowledging this can help a military spouse feel better understood and feel appreciated.  So, a "Thank You" is wonderful.  If you want to kick it up a notch, offering to help in some way – watch the kids, mow the lawn, run an errand – is amazing.  A cup of coffee, glass of wine, or an ice-cold beer can go over well, too 😉 .
How did your children handle your cancer diagnosis? 
Breaking the news to my children was one of the hardest things I had to do.  My youngest was two at the time, so I simply told her that I had some big boo-boos that had to be fixed and that I would need to see the doctor for some surgeries and some special medicine that would make me lose my hair.  Telling my daughter who had turned 11 the week before broke my heart.  Every emotion a parent wants to spare their child was written all over her face and in her body language.  She kept a brave outlook, but telling her that I had cancer evoked fear, bewilderment and sadness.  Throughout treatment, my kids were my biggest cheerleaders.  They rolled with the punches as our schedules changed – as they saw my body change – as I had lengthy hospital stays.
How were you able to handle the role of caregiver to your children while undergoing treatment?
One day at a time.  Sometimes one hour at a time!  Though what I have wanted to do with myself professionally has changed throughout the years as life ushered in new experiences, the one job I was always certain that I wanted is motherhood.  Juggling cancer treatment with mothering young children was definitely a challenge, but my children gave me so much will to live and brought me so much joy throughout the whole experience.  They made me fight that much harder.
Treatments and surgeries stretched out over two years for me.  My husband was overseas quite a bit, so I learned to allow others to help me.  Family and friends stepped in to fill the gap when I needed them.
What advice do you have for someone newly diagnosed with cancer?
Breathe in.  Breathe out.  You've got this.  Know that you are not alone.  Arm yourself with all the information regarding the pathology and the treatment options for your type of cancer.  Discuss the options with your doctor; ask questions; and don't be afraid to get a second or third opinion.
Look toward hope so that the shadow of burden falls behind you.  Cling to your faith.  When you feel overwhelmed, return to your breath.  Breathe in.  Breathe out.  Allow your breath to bring you a sense of peace and clarity.   And never underestimate the power of a good laugh!  Laughter softens life's hardest blows.
Describe a typical day in your life for us – from the time you wake up to when you go to bed.
I am usually up early, because on some days the first class that I teach is at 6 am.  I brew a fresh cup of organic coffee and teach.  Then it is time to wake my crew to ready them for school and feed them (and myself) breakfast which is usually something easy – fruit and toast with almond butter and honey or maybe smoothies.  It has to be healthy, fast, and easy!  Once my kids are at school, I divide my time between teaching yoga & Pilates and working privately with clients.  Right now I am also spending time cultivating a program designed to help others restore their vitality after cancer treatment.  (It will be available online. ) Lunch is usually something light – a salad or leftovers – and I love a cup of ginger turmeric tea in the afternoon.   After school includes a mix of helping with homework, some after school activities for the kids, and dinner.  I am a big believer in family gathering to enjoy a meal together at the end of the day!    Also , somewhere in there is my own exercise which includes a little light cardio, a lot of yoga and Pilates, and the meditation practice of yoga nidra.  I try to stay relatively consistent with a decent bedtime, because I think that rest is imperative for sustainable wellness.   Weekends are typically pretty relaxed with lots of family time and outdoor fun.
For more information on living a healthy lifestyle, please "like" Salonpas on Facebook and follow us on Twitter and Google Plus!