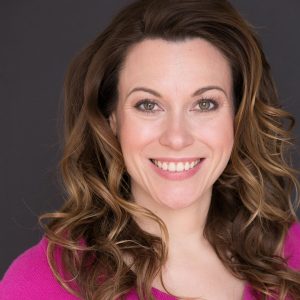 Meet Salonpas® Wellness Warrior, Erin Clifford, the founder of Rockstar Doggy Momma and Erin Clifford Wellness Consulting, who is committed to bringing a healthier lifestyle to her clients. We sat down with Erin to learn more how she is bringing a healthier lifestyle to all of her clients, including dog-owning women.
When did you found the Rockstar Doggy Momma community and what was the catalyst for its creation?
I founded the Rockstar Doggy Momma (RDM) community in the fall of 2015 when I began featuring amazing RDMs on my wellness blog. It has since grown into a wonderful community of women and their doggies. I actually began the series by featuring my Grandma Betty, who in her later years fell absolutely in love with her best friend Bella (my Bernease Mountain Dog). Bella literally saved my Grandma's life after my Grandfather passed away. Grandma began cooking for Bella and exercising with her daily. She was also a great stress reducer for my Grandma and an amazing emotional support system, which was the catalyst for my founding of RDM. A doggy momma gives her heart and soul to taking care of her doggy, and in doing so, can forget to take care of herself. Through RDM I have encouraged my followers to not only enhance the health and happiness of their doggies' lives, but to do it for themselves, together with their pups as a "rockstar" team.
Who do you serve at Erin Clifford Wellness Consulting?
The majority of my private clients are rock-star professionals. They are super successful career wise, but struggle with living and managing a healthy lifestyle. I think my clients are drawn to me because I get it. Not only do I have my own wellness business, but I am also a practicing attorney and sit on philanthropic boards in the Chicago community. Therefore, I know what it is like firsthand to be running from work, to a board meeting, to a family commitment, to a client session, etc. But I am a firm believer that if you make yourself a priority you will create a healthy lifestyle that works with your unique schedule and needs. Not to mention that when you are physically and mentally at the top of your game, you can accomplish even more amazing things in both your professional and personal lives.
What is the number one problem you see with your clients?
I think the number one concern I observe with my clients is that when they do not make themselves a priority, they create even more daily stress which translates into unhealthy lifestyle choices. For instance, after a crazy day you go home, and instead of consuming a nutritious meal, you order a pizza and drink a bottle of wine. This disrupts your sleep, which results in skipping your am workout and a healthy breakfast to begin your day. This cycle then repeats itself unless you develop healthy lifestyle habits and strategies that resonate and work for you (which is where I come in). I encourage my clients to set themselves up for success by developing healthy habits (and being honest about what they are actually willing to do) for the long haul. Real change takes time. After all, it was the turtle not the hare that won the race!
What are your top five tips for ensuring a healthier nutritional lifestyle?
Eat a Whole Foods Diet: Focus on eating foods in their natural state, like fruits, vegetables, whole grains, legumes, nuts and seeds, lean meats and fish. Anytime foods are packaged and processed, they contain lots of added preservatives and ingredients to keep them fresh. As a rule of thumb, if you are going to eat packaged foods, stick with items that contain five or less ingredients (and they are all familiar too you).
Eat the Colors of the Rainbow: The bulk of your diet should consist of fruits and vegetables, the true fountain of youth. Strive to eat four to five servings of vegetables and two servings of fruit per day. Greens in particular are amazing for youthful skin, weight management, immunity and natural detoxification, while colorful vegetables and fruits contain powerful antioxidants that protect against cancer, heart disease, obesity and diabetes. Further, instead of focusing on giving up processed foods, this allows you to naturally crowd them out of your diet over time.
Power Up with Protein: Be sure to include lean protein at every meal and snack. Protein keeps your metabolism firing and energy levels up all day long. It is also satisfying so you will be less likely to overindulge in unwanted calories.
Healthy Fats are Essential: The old adage fat makes you fat is an old wives' tale. Monounsaturated fats (olive oil, avocados, nuts) and polyunsaturated fats (Omega-6 and Omega-3) have a positive effect on your health. They are extremely beneficial in reducing cardiovascular disease, inflammation, diabetes, depression, ADHD and cancer. Specifically, Omega-3 fats (salmon, flax seeds, walnuts) are known to help prevent Alzheimer's disease and improve your skin. Strive to eat 2-3 servings each day in moderation (10 raw nuts, 1 tablespoon unsweetened nut butter, 1 tablespoon olive oil or coconut oil, 1 tablespoon chia seeds or flaxseeds).
Forgo Sugary Beverages and Hydrate with Water: Avoid sugary beverages such as soda, vitamin water, artificially favored sparkling water and sports drinks. These items contain a ton of sugar and artificial ingredients, which cause weight gain, fatigue and are addictive. Instead replace your beverages with water, fruit-infused water and green or herbal teas. We do not function at full capacity when we are dehydrated. Many experts agree that 8 glasses of water per day is a great approximate number for most individuals. You can buy a pitcher and/or water bottle with a fruit diffuser, and add strawberries and citrus fruit to your water to give it some flavor.
What are your top tips for ensuring a more active lifestyle?
Exercise is key to improving the quality of your life. It stimulates various brain chemicals that give you an emotional lift and compliments a healthy diet, enabling you to reach your health and weight loss goals. Here are a few tips:
Start Slow: If you are an exercise novice, begin with simple activities you can incorporate into your daily routine.  For example, going for a 30 minute walk over your lunch hour (or with your dog after work), taking the stairs or parking your car in the last spot.
Track Your Steps: Aiming to achieve 10,000 steps per day is a great all around goal that will make you inherently more active throughout the day. There are even apps that host step competitions to keep you motivated.
Get in Your Groove: There are also many studios and gyms popping up everywhere these days. Experiment and see what you like best.  Think Barre, Pilates, Yoga, CrossFit, Spin, Zumba, Flirty Girl Fitness, TRX Suspension Training, Shred, Bootcamps, Kettlebell, just to name a few
Go Old School: If you are into sports, join your favorite league, like soccer, hockey, volley ball, tennis, squash, baseball, softball, football or rugby.
Utilize Technology: Download a fitness app or go on You Tube. There are so many trainers that have amazing programs available to you for free or at a minimal cost.
Make Yourself Accountable: Sign-up for a paid class, hire a trainer, meet a friend at the gym or park, etc. The more leverage you give yourself, the more likely you are to follow through with your planned workouts. Scheduling is key!
If someone wants to have a healthier lifestyle, what the best first step that they can take?
A great way to get started is by beginning with the appropriate mindset. You are developing a long-term lifestyle plan, not a fad diet or juice cleanse. You want to develop new habits to add to your lifestyle that you can maintain for the long haul, not for a few months. It is about progress, not perfection. Be kind to yourself because change takes time.
In terms of your diet, transition to one that focuses on eating whole foods and limits the processed fare (fast food, candy, white flour products, soda, potato chips, etc.). Not only will you lose weight, but you will feel terrific and motivated to keep going. Also, get in the kitchen and start meal prepping for yourself and your family. Cooking is a learnable skill with practice. You will also save money by repurposing your leftovers for lunch and subsequent meals.
In terms of exercise, meet yourself where you are at. If you are new to the game, do not try to do a high intensity class four times in one week or you will burn out quickly. Start by walking for 30 minutes 3-4 times a week and slowly build in some more high intensity workouts. Remember cardio adds years to your life and strength training adds quality to your life, so you want to get a combination of both into your weekly routine.
Finally, realize that it is all about moderation. As I tell my clients, no food is inherently good or bad. Some are just more healthful. Having the occasional treat is beneficial for your mental state. You never want to deprive yourself or you will end up falling off the wagon. A big part of life is socializing and having fun. I cannot live without the occasional girl's night and Neapolitan pizza. When I am indulging I pair it with a salad and couch it in between a healthy lunch and workout session to start the following day.
Describe a typical day in your life from the time you wake up to when you go to sleep.
On a typical week day I get up at 5:30am. My morning ritual consists of making myself warm lemon water and feeding my golden retriever Gatsby. I then prepare my daily green smoothie, take Gatsby for his am stroll, and head out for my morning workout at the Pilates studio (my happy place) or the gym.
I work a typical 9-5 day. Occasionally over my lunch hour I'll even squeeze in a session with one of my clients or a board meeting. Otherwise, I find a spot to chill and prepare material for my online community or listen to a podcast to relax.
Some evenings I visit with clients or just spend time at home with Gatsby and the family cooking dinner (I LOVE to cook). While I'm preparing our nightly meal, I also meal prep my lunch and snacks for the following day. This helps me stay on top of my lifestyle plan.
My bedtime is typically around 9:30am. I prepare by making myself a cup of Nighty Night tea and snuggling with my Gatsby. If I'm feeling super stressed I'll take a bath and listen to something soothing.
On the weekends, however, I do my best to sleep in and make time for myself and the ones I love. I plan fun activities (with family, Gatsby and friends), take cooking classes and travel when time allows. Life is way too short not to enjoy yourself and say yes to the things that make you happy or take you out of your comfort zone.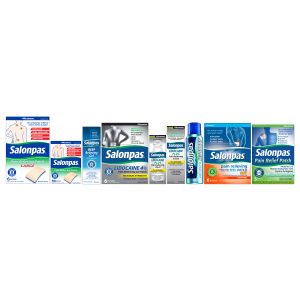 For more information on living a healthy lifestyle, please "like" Salonpas on Facebook and follow us on Twitter and Google Plus!