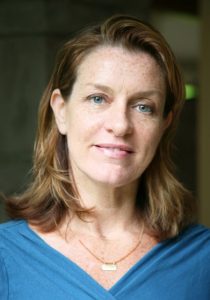 Salonpas sat down with Gillian Cilibrasi, Program Director of the Urban Zen Integrative Therapy (UZIT) Restorative Yoga whose program's mission is to change the present healthcare paradigm, to treat the patient and not just the disease. Members of their healthcare and yoga communities are trained in the healing modalities of yoga therapy, Reiki, essential oil therapy, nutrition and contemplative care. This curriculum is uniquely designed to treat the classic symptoms of illness: PANIC™ (pain, anxiety, nausea, insomnia and constipation) and exhaustion.
Gillian, the UZIT Program director and trained yoga practitioner, shares her experience as a Wellness Warriors committed to bringing a healthier lifestyle to others:
What was the catalyst to start UZIT?  Who do you serve?
In 2007, Donna Karan and the team at the newly formed Urban Zen Foundation hosted a Well-Being Initiative.  It was a 10-day forum with doctors, nurses, coaches, teachers and other professionals who came together to discuss the health care system – what was working and what is broken.  When they designed the forum, they were unsure what the turnout would be, however all 10 days sold out!
Agreed upon by all at the Well-Being Initiative was that the system supported the disease management, but lacked in truly caring for the patient – mind, body and spirit.  In her own experience, Donna Karan has been bedside to family, friends and colleagues and often felt that the family members and caregivers also need support.  In response to the forum, Donna, Rodney Yee and Colleen Saidman set out to design the Urban Zen Integrative Therapy Program to provide care for the patient, family and caregivers.
Before he passed, Donna's husband Stephan, asked her to 'take care of the nurses.'  By training the Urban Zen Integrative Therapist (UZIT) to work in a healthcare setting, along with training the nurses themselves, the UZIT Program is doing just that.
Tell us about the research study at Beth Israel Medical Center and UZIT.
In 2009 a pilot program was launched at BIMC in NYC.  It was called the "Optimal Healing Environment" and brought the UZIT Program into a clinical setting.  UZITs, along with a patient navigator and chaplaincy, provided sessions on a 24-bed procedural head and neck oncology floor. In a cost-savings analysis, the Program saved $469 per patient per stay in medication costs.  Extrapolated, this was a savings of almost $1M per year to the hospital.
Can you share stories about the success of UZIT with patients?
There are so many.  When the program began, we focused on oncology because that was Donna's experience.  As we have grown, we have garnered amazing partners in CareRite Centers which specializes in long-term care and rehabilitation.  We have UZITs that are working with children in schools, bringing a UZIT approach to mindfulness in education.  We work with the Ronald McDonald House serving the children, families and staff.  We are in hospice, drug and alcohol rehabilitation centers, orthopedics, home care and more.  Lately I've been saying that while we got our start in cancer care, we now work from prenatal to end-of-life.
I think my favorite current story is this from a colleague in Ohio, Lori Bower:
"A young boy with cancer and his mother came in for a session.  I could feel their sadness as I began to listen to their story; bearing witness to this family was an honor for me.  I offered the mom lavender essential oil as that was one of her favorite smells.  I put them in our most nurturing pose – side-lying child's pose facing each other.  The mother wrapped her arms around the bolster and I placed at the front of her body which she held tightly at first.  I used a soft teddy bear as a prop for the young boy, which he gently caressed.  As I cradled his head to offer reiki, I could feel his head melt into my hands.  He looked up at me and as our eyes met I could feel his sense of relief.  They rested in that position as I offered them a body awareness meditation.  Later, as they rolled up from that pose, both looking more relaxed and less stressed, the young boy said in a soft voice, "This was fun."  His mom smiled."
It was not that long ago that alternative health (acupuncture, massage, etc.) was never found at a hospital setting. What changed that mindset?
Well, I don't think it has changed everywhere, but I think the truth is patients are asking for it.  We use these modalities in our wellness and therefore look to them in illness.  Again, missing so often in healthcare is the mind-body-spirit connection and the ability to drop into this present moment using integrative modalities helps us to actively participate in our own healthcare choices and advocacy.
Is UZIT nationwide? How many practitioners are involved nationwide?  What are the healing modalities that they cover?
We have trained more than 850 UZITs nationwide, including more than 225 UCLA staffers who do this work in tandem with their daily duties.
We teach Therapeutic Yoga positioning and propping, Reiki, Essential Oil Therapy, and Contemplative Care including meditation, breath work and body awareness, and Nutrition for Self-Care.  We teach the modalities individually and then layer them together.  We have found that, on their own, each modality is safe and effective, but layered, we see that they amplify each other.  These are what I refer to as the UZIT's tool belt.
A UZIT session can last a few minutes to as long as an hour.  We are able to ask questions of the patient or recipient using our PANIC model which represents the symptoms that the person may be experiencing – pain, anxiety, nausea, insomnia, constipation…and from all of that, exhaustion.  Once we determine which symptoms are present we can design the session to address those symptoms using our "tools".  Often patients see reductions in their pain levels, a heightened sense of embodiment and a deeper sense of relaxation.
What is the biggest challenge that UZIT faces?
Funding. The UZIT is a key initiative of The Urban Zen Foundation and like all nonprofits we rely on the public for financial support. There is such a great demand for the UZIT program. To date, we've conducted more than 50,000 documented patient sessions and trained over 850 healthcare professionals. We have strategic plans to expand the training and the reach of the program as well to as additional research to further validate the efficacy of our work. All of this requires money and donors to support the development of our work across the country.