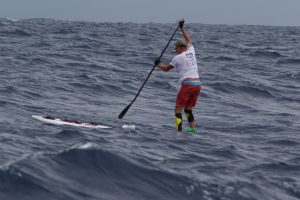 Hisamitsu America, marketers of the Salonpas brand of Topical Pain Relievers, are proud to announce their sponsorship of Dr. Bob Arnot, M.D. internal medicine,  an award-winning journalist, author of twelve books on nutrition and health, host of the Dr. Danger reality TV series, and previously chief medical and foreign correspondent for NBC and CBS, at the Molokai 2 Oahu (M2O)Paddleboard World Championships, held July 29th 2018, in Hawaii.
"We are proud to sponsor Dr. Bob Arnot at the M2O Paddleboard World Championships as he demonstrates that athletic mastery is possible at any age but especially for older athletes," says John Incledon, President, Hisamitsu America, one of the fastest growing companies in the OTC sector.   "Dr. Bob turns to Salonpas Lidocaine Plus Pain Relieving Cream and Roll-On to keep him in the race, and we support his advocacy of OTC topical analgesic therapy in lieu of pills." If you eat right, exercise and prepare to manage pain safely and effectively, 70 can be the new 40 when it comes to athletic endurance events.  Dr. Bob Arnot is proof of that.
"The science shows that the master athlete in their 70s and 80s have the heart and lung power and muscle mass of a fit 45-year old," says Dr. Bob Arnot, age 70 who won best in his age class at last year's M2O Paddleboard World Championships.  "The biggest single stumbling block for older athletes is recovery.  As older athletes push to stay on top of their game, they run a greater risk of developing all kinds of aches and pains.  I've been fighting an Achilles tendonitis, tennis elbow and foot tendinitis.  For these conditions, the topical pain management products from Salonpas including Salonpas Lidocaine Plus Pain Relieving Cream and Salonpas Lidocaine Plus Pain Reliving Roll-On are a Godsend as they work right away to kill the pain before it grows into a big problem. Additionally, older athletes can't tolerate large doses of NSAIDs,  which carry greater risk of stomach bleeds and heart attacks."
About the Molokau 2 Oahu Paddleboard World Championships
Founded in 1997, M2O has grown from a grassroots challenge for the legendary lifeguards of O'ahu to the premiere event in the sport of paddleboarding. The race annually crowns world champions in the two disciplines of traditional (prone) and stand-up (SUP) paddleboarding. In 2018, a hydrofoil division was added to welcome the evolution of technology in the SUP. Connecting the islands of Moloka'i and O'ahu, the 32-mile race crosses the Ka'iwi Channel, also known as the Moloka'i Channel and Channel of Bones. Men and women from more than 20 countries will face strong currents as they navigate the fastest downwind-route over one of the most beautiful and powerful channels in the world. Top athletes can complete the crossing in less than five hours, riding mid-channel waves that crest more than 12 feet and carry paddlers hundreds of meters. M2O starts in Kepuhi Bay on the northwest shore of Moloka'i and finishes in Maunalua Bay on the southeast shore of O'ahu. The annual race is a deeply personal experience, challenging every paddlers' physical and mental endurance. Every finisher experiences an individual championship.
About Hisamitsu America:
Hisamitsu America is the US division of Hisamitsu Pharmaceutical Co., Inc., founded in 1847, which has specialized in transdermal drug delivery system technology since the introduction of its Salonpas line of patches in 1934. The SALONPAS® product line, which gained early acceptance in Asia and now sells in over 30 countries, has pioneered the development of transdermal patches to relieve everyday aches and pains. The Salonpas Pain Relief Patch was the first FDA-approved OTC pain patch.