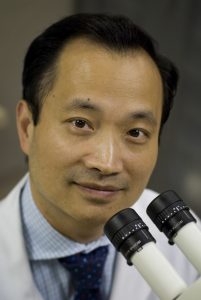 Meet Dr. Ming Wang, a Salonpas Wellness Warrior and one of the top ophthalmologists in the world, whose meager prospects as a Chinese immigrant were overcome to achieve great goodness in the world. Dr. Wang's inspiring life is a veritable prism of accomplishments realized, against all odds. Among his life's highlights:
As a young boy, he survived China's Cultural Revolution by learning to play a musical instrument and to dance – the only alternatives to either hard labor or death.
From his journey to the United States with $50 in his pocket, Dr. Wang graduated with an MD degree from Harvard and MIT, and a PhD in laser physics.
Today he is not only one of the world's most prominent eye surgeons, helping tens of thousands of blind patients restore their sight, he also provides hundreds of young people with sight-restoring eye surgeries free of charge through his charitable Foundation.
But his avocation inspires smiles. Dr. Wang's continued pursuit of ballroom dancing (which was his survival tactic in China) has led to numerous championships and continues to fuel his passion.   The ballroom dancing that saved his life still remains one of his great passions. Dr. Wang has continued to win prestigious medals, competing nationally several times a year, including as a finalist in United States Pro-Am international 10-dance championship. He also organizes an annual charity EyeBall to raise funds to help the blind. As you can see, this is so much more than a story of an immigrant-turned-philanthropist or unique dancing eye doctor, but someone whose outside passion dramatically helped to shape his noble life cause, bringing tens of thousands of blind patients out of darkness into light.  Salonpas sat down with Dr. Wang to learn more about his life:
How did your experience as an immigrant from China shape your direction in the United States?
My experience as an immigrant makes me realize several things… America is the greatest nation on earth. While we do have an immigration problem, we do not have an emigration problem. America provides something all of us as humans desire the most: peace, security and fairness.
I believe that immigration is a good thing, not a bad thing, for America. Immigrants make an important and indispensable contribution to the American economy. The percentage among entrepreneurs who are immigrants is twice of that of non-immigrant, so an immigrant is twice as likely to become an entrepreneur, and this country is driven by entrepreneurship, creativity, innovation, dedication and hard work. An immigrant not only does not take jobs away from the natives, on average, an immigrant creates 1.2 new jobs (and in my case, I have created 28 jobs at the Wang Vision 3D Cataract & LASIK Center).
Embracing cultural diversity will only make America strong, as all of us will be encouraged to make worthwhile contributions to this great country, with unique strengths from each ethnicity and culture.
I have founded the Tennessee Chinese Chamber of Commerce with a goal to help Tennessee businesses learn about China and thus increase our export to China.  I also founded the Tennessee Immigrant and Minority Business Group, the aim of which is to provide a platform for immigrant and minority businesses in this country to interact and help each other.
Why did you decide to specialize in ophthalmology?
After I survived China's Cultural Revolution and came to this country with only $50 in 1982, I studied and completed a PhD degree in laser physics and finished a postdoctoral fellowship at MIT. I then completed my MD (magna cum laude) from Harvard Medical School and decided to specialize in ophthalmology. I thought that I could combine my expertise in laser with my training in medicine and could thus become the best laser eye surgeon who has knowledge and training both in high tech laser and also in medicine.
Tell us about EyeBall?  How long has this charity been in existence and what have you accomplished?
I founded a 501c(3) non-profit charity, Wang Foundation for Sight Restoration, in 2003, and to date, the foundation has helped patients from over 40 states in the U.S. and 55 countries, with all sight restoration surgeries performed free-of-charge.
EyeBall is our sight foundation's signature event. It's a spectacular show in classical ballroom dancing, through which we are reminded how precious sight is.  Without sight, we wouldn't be able to see all of that beautiful things in our lives, and how much we need to help those who can't.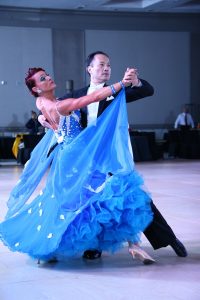 How did you get into ballroom dancing and what drives you to excel at it?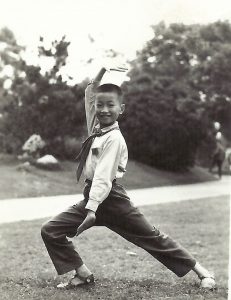 I first learned dance at 14, during one of the darkest eras in human history, China's Cultural Revolution, during which millions of innocent youth were deported to remote areas to face a life sentence of poverty and hard labor. After I graduated from 9th grade (with a straight A), I was not allowed to continue my education and faced this devastating fate of deportation, along with 20 million others. It turned out that one of the ways to escape deportation was to play a musical instrument or dance well enough to get into the Communist Song and Dance propaganda troop. This allowed us to be exempted from deportation and permitted us to stay in the cities, since the communist government needed musicians and dancers in the cities for its propaganda troops. I practiced dance every day, not for the love of art and movement, but because of the sheer need to survive. Then, the government discovered that I was practicing dance with an ulterior motive, i.e., not for the art, but using it to avoid deportation and labor camp, so they stopped my dancing practice.
To put this into perspective: today in America, friends will say, "Ming, it's so nice that you have these hobbies, you can play an instrument and you can dance, nice to have these hobbies." You know what I say? "I did not learn these as hobbies, I learnt to survive."
What advice do you have for other immigrants to the US?
Learn English, and American history and culture, assimilate, be an American and become a part of this great country. And, at the same time, preserve your cultural heritage and always remember where you are from. As immigrants, we have chosen to come and live here, and we have benefited from all of the wonderful opportunities that America has given us. So, we do have an obligation, to pay back, to help our adopted country. Ask less what each of us should get and receive, ask more what we together can do to help keep America strong.
Describe a typical day in your life – from when you wake up to when you go to sleep
6am: wake up, shower, breakfast and go to work.
7am – 5pm: surgeries (3D SMILE & 3D LASIK (18+), 3D KAMRA (45+), 3D Forever Young Lens (50+), and 3D Laser Cataract Surgery (60+)).
5pm – 7pm: dinner, and vision seminar presentation to the public.
7pm-10pm: ballroom dance practice.
10pm-1am: working with China eye group Aier, to bring investment from China, to build eye clinics and create jobs here in America.