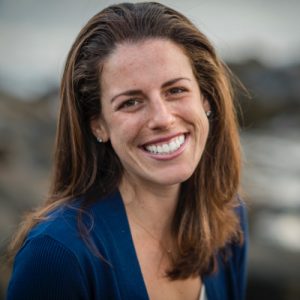 Meet Jess Lynch, a Salonpas® Wellness Warrior with a lifelong passion for health and wellness and helping others. She founded a start-up called Wish Route which is an accountability service that gets users unstuck on their wellness intentions, like exercising and eating healthy, and taking action.
What was your inspiration to create Wish Route?  When was it founded and how many members do you currently have?
I was inspired to start Wish Route during my MBA program at Babson in March, 2018. While back in school, I finally felt like I had the time to invest in myself and make the changes I'd been thinking about for years. For instance, I started meditating first thing in the morning, before I look at my cell phone. I started to notice a lot of people around me kept saying "I really wish I exercised more" or "I really need to try that meditation thing" – which I had probably been guilty of before going back to school. This is when I noticed a wish epidemic. Everyone wakes up with these really good intentions, but we get busy, life gets in the way, and all of a sudden, it's the end of the day and we didn't follow through on our plan. I reflected on this problem and thought about what has enabled me to make changes in my life. I have the support, inspiration, and most importantly, the TIME to vet good content and find things that are FUN and interesting for me to try. That led to me starting Wish Route! We focus on finding what users can ENJOY and realistically fit into their day. Even a 10-minute workout is a win and we want to celebrate that with you. As users progress they earn surprise gifts which adds an element of fun and delight – who doesn't like to earn points and get gifts in the mail?
Wish Route is an accountability service that gets users unstuck with their wellness intentions and taking action. We are starting with the wishes "I wish I exercised more" and "I wish I ate healthier." Users select their wish and answer questions about their wish, lifestyle, and preferences. Then, at the frequency of their choice, we send them personalized suggestions and check-in texts for accountability. As users make healthy choices, they earn points which can be redeemed for surprise gifts!
The vision for Wish Route has attracted some incredible people that are propelling the business forward – 7 other team members are contributing part-time on top of their day jobs. Wish Route is in development and we have been testing the service with users. We continue to refine what we do and our user's feedback has been incredibly helpful, but also very positive. We're onto something and can't wait to share it with more people! If you are interested in being a test user, go to wishroute.com and enter your name and wish, takes 10 seconds, and we will be in touch!
Is there a cost to be a Wish Route member?

Currently, test users are experiencing Wish Route for free but we are targeting a price point of $20/month. Users work on one wish at a time and we evolve with each user's ambitions and preferences. At any time, a user can switch wishes or update their preferences to keep up with their progress!
What are the benefits to being a Wish Route member?
Many of our users describe us as the friend that is always encouraging them and has all the best recommendations. We save users time by curating content from many different sources which leads to incredible variety that our users love. We also provide users accountability through check-in texts and incentives which keeps users motivated and enjoying the journey.
What are your goals for Wish Route?
We want to be able to support users in all areas of life, wherever they need a little extra push and love. We will expand beyond exercise and eating healthier to provide support and inspiration around many different subjects. We want to be the place to go when you want to take the first step towards a wish!  We want every user to feel cared about, delighted, and on track to something greater. I see Wish Route providing incredible community for our members and deeply believe in the power of momentum and the ripple effect. One change leads to another, one person inspires many, and everyone embodying their fullest potential has unlimited possibility. We want to help everyone make that first change.
Can you share some Wish Route success stories?
Absolutely! On the exercise wish side – many of our users have fallen out of a consistent routine and are not exercising regularly. On average, after just a few weeks, these users go from not exercising to working out 2-3 times a week! They tell us it's because we help them remember their intention by checking in and providing diverse suggestions that they are excited to try. They also tell us the gifts are a fun aspect and they enjoy knowing someone else is rooting for them and cares if they are taking care of themselves. This makes the hard work on our end developing Wish Route, well worth it.
Describe a typical day in your life – from the time you wake up to when you go to sleep.
I've worked hard over the past year to create a centering morning routine. I usually wake up to my alarm at 7am and then, before checking my phone, do a 10-minute mediation and 10-minutes of yoga. Then, I pull out the smartphone and take a quick peak at the day ahead. In terms of exercise, I'll either workout at home in the morning, hit a workout class at lunch time, or go for a walk after dinner with my husband J I spend a lot of time during the day with others – I'm always networking with people in the industry, Boston start-up community, and with potential Wish Route partners and team members so I usually have at least one coffee or lunch meeting each day. I also have meetings with different team members and coordinate content curation and communications for test users. My favorite moments are when I get to ask test users for feedback and I hear about the positive impact we are having on them – makes the whole day feel very meaningful. I also spend a good deal of time in my email inbox. At night, I often have a networking event, but if not, I'm happily home with my husband having dinner and watching a movie or comedy TV show. Monday nights you can almost always find me watching "The Bachelorette" with some popcorn.