This month's Salonpas® Wellness Warrior features an expert in public health and safety.   Meet  John Travis, a Senior Research Scientist at  NSF International who recently completed a powerful study published in Clinical Toxicology about the unmeasured/unlabeled presence of the banned stimulant higenamine in dietary supplements.  NSF International is a global, independent, non-government organization that tests, audits and certifies products and systems. NSF International's Certified for Sport® program screens products for more than 272 athletic banned substances. We sat down with John Travis to learn more about the 'all natural' world of supplements:
Is there a general misconception with the public that anything 'natural' is also safe?
Unlike the term "organic," "all natural" is not an official term that is regulated by the federal government and does not offer any guarantee as to the product's safety. Manufacturers are responsible for ensuring their supplements are safe before they are marketed. As high-profile cases like our recent study illustrate, the actions of a few disreputable manufacturers can generate a potential public health risk, which reflects negatively on the entire supplement industry. Fortunately, reputable companies can seize this opportunity to showcase their products' safety, verify label claims and differentiate themselves in the marketplace. Independent third-party certification of dietary and sports supplements and ingredients helps weed out illegal and non-compliant products from the marketplace.
What was the catalyst for you to research the plant-based stimulant: higenamine?
Part of our mission as researchers at NSF International is to educate consumers and help protect public health. The ingredients we investigate have the potential for detrimental health effects to consumers. We want to raise awareness for everyone: consumers, supplement manufacturers and regulators.  These ingredients are often deceptively labeled as botanical extracts.
We believe that is how DMAA entered the market as an ingredient. A single paper from a Chinese technical journal with an unknown peer review process allegedly identified DMAA in geranium essential oil, though there are many flaws in the paper.  Since geranium is considered a dietary ingredient, the brand manufacturer concluded that it was a legitimate dietary ingredient in spite of the flaws. The case for higenamine is similar, with a twist.  There are peer reviewed papers that withstand scrutiny which identify the substance in plants that are considered dietary ingredients, such as aconite root or lotus flower.
When brands list only the botanical, which is what the law requires, the choosing of a supplement becomes difficult for consumers and athletes based on the ingredient listings alone. Sports supplement usage is widespread in many sports, and it's not limited to elite athletes and professionals. Students, recreational athletes and "weekend warriors" are a significant segment of the fast-growing sports nutrition market. But dietary and sports supplements sometimes contain banned substances and mislabeled ingredients – just ask the many elite athletes who've been suspended from their sports due to inadvertent doping.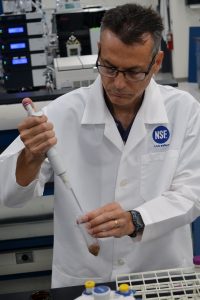 What did you learn when you looked into the role of higenamine in weight loss supplements?
In our study, we found a stimulant with beta-adrenergic agonistic activity called higenamine (sometimes labeled as synonyms "norcoclaurine" or "demethylcoclaurine") in unpredictable and potentially harmful quantities ranging from trace levels to 62 mg per serving. Of the 24 products tested, only five listed a specific quantity of higenamine on the label, and none of those five quantities were accurate. The findings were published in the peer-reviewed journal Clinical Toxicology.
Why was higenamine banned by the World Anti-Doping Agency?
Higenamine is a beta-2 agonist, which was added to the list of banned substances by WADA in 2017. Beta-2 agonists act as smooth muscle relaxers, and may be used to treat asthma and other pulmonary disorders. Beta-2 agonists are so-called because they activate the beta-2 adrenergic receptors that relax the muscle of the lungs, and dilate and open the airways. Potential risks of beta-2 agonists include tachycardia, or an accelerated heart rate, as well as tremor, excessive sweating, anxiety, insomnia and agitation. While Higenamine is a beta-2 agonist, there has not been sufficient clinical research to understand if it poses the same benefits or risks as the beta-2 agonists currently used in the treatment of asthma.
What is your advice to people who may be attracted to OTC weight loss products that they find at their drugstore or health food store?
In addition to being cautious about the word "natural/all natural," carefully examine the label and look out for the following:
Outrageous claims.Most of us have seen supplements that promise to help make us thinner, smarter, stronger or faster or to improve our sex life without making any other changes in lifestyle. Just as with other products, if it sounds too good to be true, it probably is.
"Pharmaceutical strength." This is another one to watch out for, as there is no such thing as pharmaceutical strength for over-the-counter supplements.
Do you think the FDA should regulate these 'natural' supplements?
My wish is for regulators and industry members to come to a consensus on the use of synthetic versions of constituents of botanicals and publish a consensus opinion as a finalized guidance document.