Product brand managers worldwide huddle with their communications and public relations advisors to figure out how to get celebrities to try and be seen with their products.  As reported by Wikipedia, "celebrity branding is a type of branding, or advertising, in which a celebrity becomes a brand ambassador and uses his or her status in society to promote a product, service or charity and sometimes also appears as a promotional model."
Agents, managers and publicists are all on board looking to monetize their celebrities by aligning them with products.  However, outside this whirling dervish world of pay-for-play celebrity branding exists a calmer, balanced place where independent thinking flourishes.  In this world without pay turnstiles lives celebrities who make their own independent product endorsements just because they actually like the product.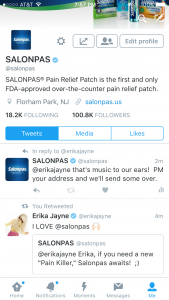 Hisamitsu Pharmaceutical, the parent company of Hisamitsu America and the manufacturers of Salonpas®, was founded in 1847. Over the past 172 years, the company has been busy developing products to promote better health for people around the world. The Salonpas brand patches were first introduced in 1934 and their outright efficacy propelled our company to the position of market leadership that we hold today.
That market leadership translates to our products being tried by virtually anyone who is suffering from mild to moderate pain – even celebrities.  Without entering the pay for play celebrity branding world, Salonpas products have been independently touted in newspapers, magazines and social media by the famous television broadcaster Al Roker, Tony and Emmy award-winning singer and actress, Kristin Chenoweth, actress Angie Harmon, American rower, Susan Francia, Kris Jenner, Erika Jayne, Nicole Eggert, Lena Dunham,  and pianist Polly Ferman.  Francia remarked to a rowing magazine that "Salonpas Pain Relieving Patches work miracles" and that she "literally sweeps the entire stock of them into" her "cart when she goes to Walmart."  Kris Jenner even recommends Salonpas to her friends as reported by Net-A-Porter.
While we appreciate this genuine enthusiasm for our products from celebrities, our everyday goal is to ensure that everyone who suffers from pain – whether they are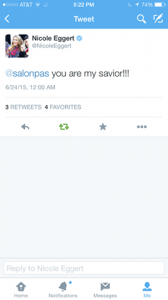 school teachers, police officers, office workers, etc., – benefit from our topical analgesic products.  That's why we invite you to comment about your product experience on Facebook or Twitter and be our company's true and tested Salonpas stars.