"How would you rate your pain on a scale of 0 to 10, with 0 being no pain and 10 being the worst pain you can imagine,' is a question all pain sufferers have heard from their doctor.  While this is a reasonable question, except for the fact that no one ever tells you what those numbers mean. For example, how does moderate pain differ from minor pain?  In a nutshell, moderate pain interferes significantly with daily living activities while minor pain is nagging and annoying but doesn't really interfere with daily living activities.  Moderate pain can interfere with normal daily activities making it difficult to concentrate.
"To get good control of your chronic pain — and your life — it's not enough to tell your doctor it hurts," reports WebMD.  "You need to learn how to talk about pain: how it feels, how it rates on a pain scale, and how the pain affects you."  Many doctors rely on pain scales to get a better understanding of their patient's pain. One common pain scale shows a series of numbered cartoon faces moving from 0 (smiling and pain-free) to 10 (weeping in agony.) A doctor would ask a person in pain which face matched up with what they were feeling.
Pain scales have a lot of good research behind them, says Steven P. Cohen, MD, associate professor in the division of pain medicine at Johns Hopkins School of Medicine in Baltimore. As chronic pain has shifted from being seen as a mere symptom to a serious condition in itself, pain scales have caught on as a tool to evaluate and monitor pain. While they're helpful for anyone in pain, they're crucial for some. "Pain scales are especiallyimportant for people who might have trouble communicating clearly," says Cohen. That could include children and people with cognitive impairments.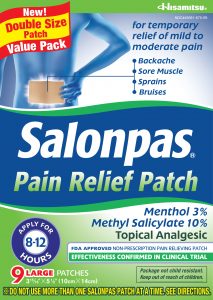 The Salonpas® Pain Relief Patch LARGE is an FDA-approved OTC topical pain reliever.  They're twice the size as before with the power to target large pain areas.  Since the patches are now double the size, there is a 35% savings on an equivalized patch basis.
"Clinical trials demonstrated that the Salonpas® Pain Relief Patch works up to 12 hours on mild to tougher moderate pain," said award-winning journalist Dr. Bob Arnot, M.D., internal medicine, who is the author of twelve books on nutrition and health, and previously Chief Medical Correspondent for NBC and CBS News. "As a 70-year old active athlete, I suffer from pain as a result of training and competing. I was a huge fan of the previous Salonpas Pain Relief Patch and it is great that it is now available as a double-size, larger patch which targets my back pain."
 For more information on living a healthy lifestyle, please "like" Salonpas on Facebook and follow us on Twitter!