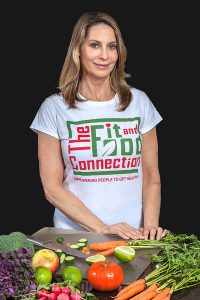 Meet Salonpas Wellness Warrior, Joy Millner, co-founder and co-director of St. Louis, MO non-profit The Fit and Food Connection (FAFC), which provides nutrition and fitness resources to low-income families and individuals in the St. Louis county area, including food assistance, fitness classes, nutrition seminars and one-on-one fitness and nutrition coaching. All of the programs are free and aim to support low-income individuals in the area. Joy has 35 years of experience as a nutrition and fitness professional and works day in and day out to ensure her organization is helping as many people in need as it can.
What was your catalyst for founding The Fit and Food Connection?
I wanted to take the many blessings from my life, along with my passion for fitness and nutrition, and share those with our low income communities that don't have access to free wellness offerings. I called myself 'Living Joyfully', and met my partner Gabi who was delivering food to her neighborhoods in north city under the name 'The Food Place', and we decided to partner and form The Fit and Food Connection  in 2014.
Is your organization run by all volunteers? How do you survive?
Our organization is run mostly by volunteers from all over the world, who wake up every day to make St. Louis a healthier place. Our volunteer stories are very powerful, and between our clients whose lives we are changing and our volunteers, our world is a sunny one. It is hard to survive since all 5 of our programs are free. It takes very little to operate our programs, but we would like to improve on all of them so that we can reach more people. We have a waiting list, and are looking for funding and board members so that we can raise some money and heal more people.
Do you want to expand to other markets?
We currently serve all low income areas in St. Louis, spending most of our time in northern St. Louis city and county. Eventually we would like to take our model to other cities so that we can provide smiles and confidence and healthy lifestyles to more people in need.
Share some success stories on how Fit & Food has helped people in St. Louis.
What sets us apart is that we heal holistically.  We teach about the importance of good nutrition and exercise, as well as reducing stress and getting enough sleep. We teach a way of life, something that clients can do successfully for years to come. We have helped so many people lose weight, find more energy, lower their numbers of such things as weight, blood pressure, cholesterol and blood sugars, and even sometimes go off their medicines all together. We helped one client who was a double breast cancer survivor to walk without her cane to the bus stop so that she could get around the city. We brought in dietitians, personal trainers, occupational therapists, chefs  and yoga instructors to her home to work with her.
Another client had a 40 pound tumor in her belly. She had surgery 7 years ago and we have worked with her ever since to maintain a healthy lifestyle. She is now a leader and health advocate for The Fit and Food Connection.

Please describe a typical day for you from when you wake up to when you retire for the day.
I always start my day with a workout. The rest of the day is spent either teaching a fitness or nutrition program or meeting with a client, or having meetings with new or current volunteers, prospective or current partners, or donors to share our passion and organization. I usually end my day about 9 pm and have definitely earned my rest!