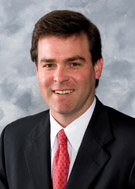 When investment banker Sam Cross traveled from his home in Chicago to Colorado to tend to a family crisis, little did he know the trip would change his career and his life. His aunt had developed early-onset Alzheimer's disease, his uncle was battling Stage 4 lung cancer—and his exhausted mother was trying to care for them both at home. As he helped his fiercely proud, ex-marine uncle tend to "personal activities of daily living that nothing in our relationship had prepared us for," he was struck by how difficult care-giving was, both for the giver and receiver.
"It was critical that we preserve my uncle's dignity," says Cross. "We brought in a home care agency, but the care was generic—it didn't add to the quality of his life, which was what we needed."As Cross continued commuting between Chicago and Colorado, he became obsessed with finding a better approach to home care. In 2014, after extensive research and soul searching, he launched Broad Street Home Care in Wilmette, Illinois.
He founded the agency—named after the street of his childhood home—on the premise of finding the most dedicated people, arming them with extensive training and then carefully matching them to specific clients based on their skills, traits and personalities. Just a few years later, the busy agency provides premium, customized home care to clients throughout Chicagoland, drawing on a deep bench of nearly 100 highly-trained "personal assistants"—aka caregivers—who are closely overseen by nurse supervisors.  Salonpas sat down with Wellness Warrior, Sam Cross, to learn more about the home care industry.
Is Broad Street more expensive than competitive home care agencies?
Yes, we are generally at the higher end of the range when compared to traditional home care. However, our service is a little different so not exactly comparable.  Our service is more engaged and includes nurse oversight.
Do you have plans to expand Broad Street beyond Chicagoland?
Yes, but not anytime soon.  There is significant opportunity in the Chicago area where we can build scale around our recruiting, training and human resources.  But as we get more integrated with and as an extension of the healthcare system, the model can be readily applied to other metropolitan areas. It's really about improving health outcomes which benefits the whole system. The healthcare system is often unaware of how critical the right support at home can be towards reducing re-admittance rates.  All of this said, we have no plans to franchise.  The value comes from harnessing the diversity in skill set and training of our people, and the franchise model typically is not able to do this.
What types of clients does Broad Street serve?
We serve clients who can benefit from a more engaged level of service and are more interested in quality of service.  This often means clients who have more complex underlying health conditions where we provide specialized service for Parkinsons, Alzheimers/Dementia, Stroke recovery, and others conditions.  In these cases, we we can help manage symptoms and improve communication with other healthcare professionals.  But it is not limited to complex health conditions, we can also add tremendous value in cases where clients are generally healthy but want to remain active. We call it Active Companionship which can involve a variety of client interests but more than anything, means that we are proactive in creating the opportunities for our clients to enjoy life. For example, we have Travel Companionship where Personal Assistants (our name for caregivers) join clients on trips, whether it be for weddings, graduations or just vacation.
How did investment banking prepare you for being a home healthcare entrepreneur?
Investment Banking is an intensely service oriented business, involving complex situations and work towards a solution. It requires extreme attention to detail and internal communication to manage often chaotic circumstances. All while maintaining the highest degree of professionalism.  It's actually remarkable how relevant the experience is to home care.  Highly sensitive clients going through complex situation who are looking for a solution. By applying a higher degree of service, we provide a unique value proposition that is more effective in not only managing and stabilizing often difficult situations, but ultimately in enhancing the experience and quality of life for our clients.
Please describe a typical day in your life; from when you wake up to when you retire.
My typical day may include waking up to a variety of open issues, its just the nature of a people business.  Our focus is always on the clients and the personal assistants.  Once these issues are resolved, we may then conduct an overall client review. In this review, we go through each client to address what things are working, what things are not, what adjustments we can make and if there are any opportunities to improve the experience.  We spend a significant of time developing our human resources which involves recruiting and hiring, and then training, not just in clinical skills but in customer service skills.  Once we have a new client, it is about developing a very specific plan of service and then making sure the Personal Assistant who is selected for the client has the client specific training, instruction and support to do the job.  New clients require significant time and energy to make sure we get things stabilized as quickly as possible, it is really time spent learning and adjusting, and more time we spend upfront, the sooner we learn.
While I may not be personally performing these jobs, I am very much involved as it is a highly collaborative process.  Outside of these core operations, I spend my time on strategic initiatives, which either make us more efficient or improves the overall experience.  Our goal is to minimize the share of time we spend on administrative function so we can maximize our time spent improving our relationships and the experience.  I often spend my train ride home reading and researching ways to improve the business, but sometimes I take the time to read something unrelated, to relax my focus before getting home to my wife and little girl.