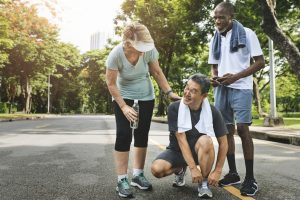 With the first day of spring arriving on March 20, the weather is becoming more pleasant making it compatible to 'spring' into exercise.  Even if you haven't worked out over the cold winter months, the spring offers an ideal time for a physical renewal.
Exercising regularly is one of the best things you can do for your health. After you start exercising regularly, you'll begin to see and feel the benefits that physical activity can have on your body and well-being. Working exercise into your routine requires determination, and sticking to it in the long term requires discipline.
If you are itching to get outside and enjoy spring by jogging a few miles, teeing up for a round of golf, or playing a few sets of tennis, be sure to first prepare your body for exercise.
"People should put their pride in the back seat and not go out and try to run 10 miles on the first day after a winter of little or no physical activity," says Brian Crites, MD, head team doctor for varsity athletes at the University of Maryland to WebMD. "The 'no pain, no gain' mentality doesn't work — you have to take it slow."
Even with the first warm days of the season calling your name, taking it slow means starting from square one: If you've been less active for a while, see your doctor before you start any new exercise program.
"If you have taken the winter off, start your spring training by walking for 10 minutes every day or every other day for a week, and then the next week, walk for 15 minutes," Dr. Crites tells WebMD. "From there, work your way up by five-minute intervals each week to a 30 to 40-minute walk. And stretch as well, using a proper technique — which means don't bounce."
For more information on living a healthy lifestyle, please "like" Salonpas on Facebook and follow us on Twitter!