Meet Salonpas Wellness Warrior, Danny Boronico, author and founder of Athena's Fight Club, who explains why boxing makes a difference for women and children's mental and physical health:
What was your inspiration for founding Athena's Fight Club?
The inspiration came one night when a friend asked me to accompany him to an AA meeting. I never had a problem with drugs or alcohol, yet I felt I walked out of the meeting feeling good. I said to myself, wouldn't it be nice if everyone had a place to go to that they could release some emotions and feel better about themselves?
What benefits do women get from boxing that are different than what men get?
The benefits are the same for both men and women. Confidence will increase along with conditioning. Both men and women will burn a lot of calories while strengthening their core.
Did you ever suffer mental anguish as a youth?
I never suffered mental anguish as a youth. I suffered with depression and anxiety later on in life in my adulthood. I think that the remedy is the same regardless of your age. The key is learning how to cope with life's never ending problems.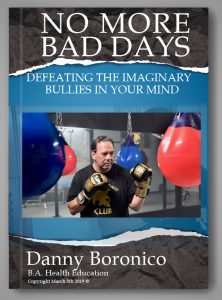 Tell us about your book.
I recently wrote a book called No More Bad Days, subtitle Defeating the Imaginary Bullies In Your Mind. It is a comprehensive self-help book that teaches people how to cope with problems.
How do you keep your mind body motivated and fit today?
I instruct classes at Athena's Fight Club.
Describe a typical day in your life from the time you rise to the time you retire?
I'm not a great sleeper. I tend to get up a lot through out the night. I learned not to fight it, so now when I wake up regardless of the time I try to be productive. I sometimes utilize that time to do research questions that arose in my mind, it could be anything, perhaps a new health trend or just some soul searching.
I look forward to my morning coffee. I like to sip coffee while playing my guitar and watching the news.
Breakfast is hit or miss for me. I'm very in tune with my body.  I eat when I'm hungry and I feed my body what it's asking for at the time. I used to look at a menu and decide by taste what I am about to eat. Now as I look at the menu, I rely upon the cravings in my brain to guide me on the fuel my body needs at that moment. I know this may sound strange for many of you, but try it sometime you will see in works.
I shower, shave and that sought of stuff and off to Athena's Fight Club I go.
My days are full. Athena's has formed into more of a movement than a business. I have lots of interviews and I meet with people that want to be part of the movement to empower women and children. I meet with everyone from doctors to social workers, business people, grant writers; you name it.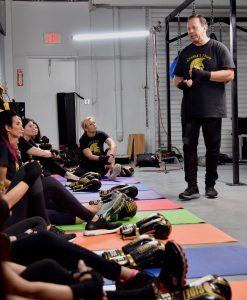 I normally teach a 6:00 pm orientation class, where I teach new members what to expect from our program and beginners' boxing lessons. It is followed by our Mind, Body and Soul class where we combat stress, anxiety and depression, followed by resistant band training, which is a great way to stretch and sculpt the body simultaneously. The class ends with 7 rounds on the heavy bag. The heavy bag training is the fun part. The bags are filled with water to prevent hand and wrist injury, high energy music is emanating from our intense sound system and between rounds highlight clips of Rocky is playing on the large screen television sets.
The bell for the final round sounds and it is time for me to head home.
I normally stop to eat because by this time I burned a lot of calories.
Night time you could generally find me back on the couch with my guitar in hand and watching the news; it's a safe haven for me. My glass doors are opened with a nice view of the pool, my English Mastiff sits by my side and comforts me and throughout it all is my faithful girlfriend and companion Lisa who manages Athena's Fight Club and puts up with me throughout the day and night. Off to bed we go and await the next days repeat performance.