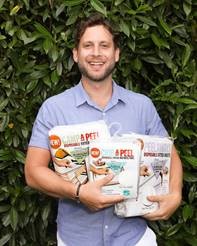 Meet Maxwell Cohen, a Salonpas Wellness Warrior and healthcare entrepreneur. While a student at the University of Arizona, majoring in Environmental and Water Resource Economics, he noticed that his friends were not changing their sheets often. At home, he saw that his elderly grandparents had trouble changing their sheets. Therefore, Maxwell determined that peel-away/disposable bed sheets with layers were beneficial to both consumer and healthcare audiences. Maxwell launched Peel Away Labs in 2017. An early Peelaways prototype was first shown on the national television program "Shark Tank" in 2015.
Entrepreneur Maxwell Cohen knew there had to be an easier and more convenient way to change fitted bed sheets, and he created Peelaways, an innovative, multilayered, disposable sheet to address this void in the bedding industry. "Hospital and healthcare facilities change bed linens daily, thereby incurring large expenses due to the cost of linens, labor to strip and make the bed, water, detergents and electricity used for laundering bed sheets, wear and tear on linens and replacement costs," says Maxwell Cohen. "Peel Away Labs created a disposable alternative to traditional laundered bedding offering patients soft, absorbent, multi-layered waterproof sheets, while saving money.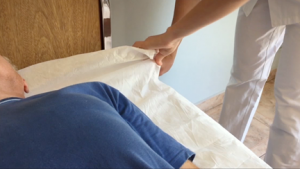 Peelaways are both a fitted bed sheet and a waterproof mattress protector. Infection neutral, they do not transmit infectious material between layers. Peelaways non-woven fibers are 32% softer and generate less friction than traditional bed sheets. Plus, a micropore waterproof membrane keeps patients cool while protecting the mattress. By simply pulling down the sheet from one corner, a soiled sheet is "peeled away" in seconds to reveal a fresh one underneath. Peelaways has multiple disposable layers.
Hospital facilities spend up to $37 billion on linens and laundry, accounting for 2 – 3% of budgeted expenses. The average hospital uses 315 gallons of water per patient bed per day with the cost of water increasing +41% from 2010 to 2016. In fact, 7% of all industrial water in the U.S. is used by healthcare facilities. Furthermore, up to 25% of sheets in healthcare facilities are replaced annually.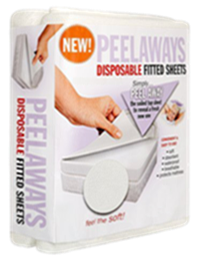 Changing a sheet with someone in the bed can take up to 15 minutes. With Peelaways, one person can change a soiled fitted sheet oftentimes with the patient in the bed in less than 60-seconds without stripping the bed. Patients are more comfortable. Staff time is better allocated.
Peel Away Labs is changing the sheets for consumers and institutions. Maxwell is helping countries internationally to reduce the use of water and electricity and go greener by using disposable bed sheets.