Meet Salonpas Wellness Warrior, Dr. Dara Bushman, known as Dr. Dara, who is a Licensed Clinical Psychologist, Rapid Resolution Therapist, Board Certified Clinical Hypnotherapist and Author. Dr. Dara grew up as a collegiate competitive tennis player. She chose the field of psychology because she is passionate about the specific areas of peak performance, peace of mind and accelerated healing coaching.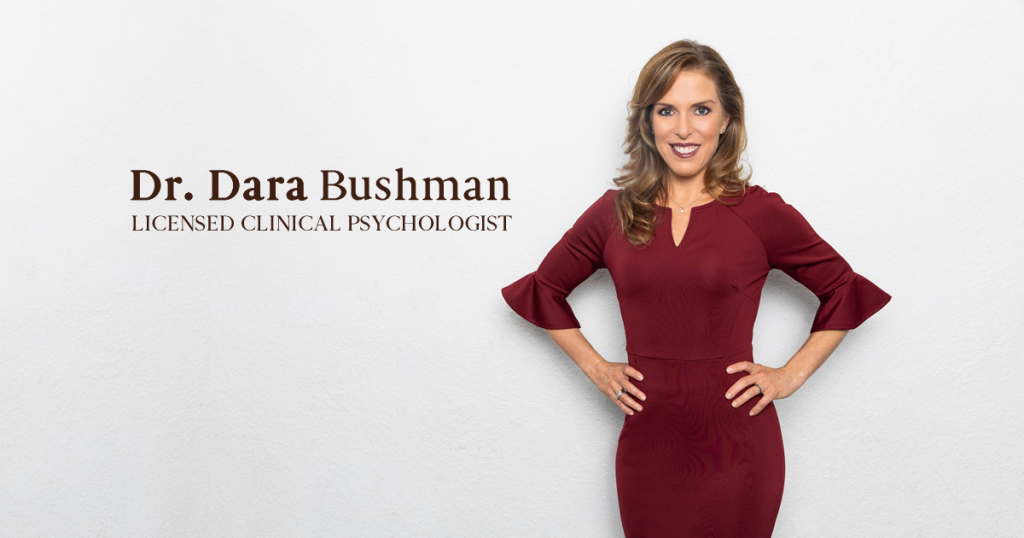 Dr. Dara utilizes Rapid Resolution Therapy to gently and effectively clear blocks and achieve dramatic transformation to decrease levels of anxiety immediately and increase clarity to reach full physical and emotional balance. She has a diverse clinical background specializing with athletic performance, trauma and eating disorders. Her work incorporates individual, couples and family therapy. Her sports clients include Olympic and world class professional athletes.
She was a lead therapist at Milestones in Recovery, a comprehensive Eating Disorder Treatment Center for 10 years with a strength to integrate and promote mind/body healing.
Dr. Dara lives in South Florida with her husband, two young children, two Italian Greyhounds and one gentle-giant Greyhound. Dr. Dara continues to be a competitive athlete at heart and lives an energetic, zestful lifestyle. Dr. Dara walks the walk, and lives the principles she believes and teaches. Salonpas sat down with Dr. Dara to learn more about her lifestyle as a wellness warrior:
What led you to become a psychologist?
I grew up as a competitive tennis player. I saw a sports psychologist, and in that moment I saw me as that person. It took me a couple turns to find my destination, but the destination was set in the GPS. I believe that there is an inner champion in everyone and it is my intention to clear whatever is blocking people and to make that shiFt happen so that they can live their best game of life.
What are the principles of Rapid Resolution Therapy (RRT)?
Rapid Resolution Therapy can achieve maximized results. I am able to transform automatic change by eliminating blocks and promoting mind-body healing by diminishing emotional and behavioral difficulties. Rapid Resolution clears the influence of past events to enjoy extraordinary outcomes in increasing levels of satisfaction, fulfillment, and connection. Root causes are resolved and improvement is almost automatic. Habits and painful emotions are replaced with positive feelings, blocked energy is released and problems are resolved. Healing occurs and minds are cleared, updated, and optimized. Desired change is automatic and lasting. Negative emotions are replaced with energy and peace while self-destructive behavioral patterns disappear.
With RRT, is the average length of therapy shortened?
Yes. RRT is a short-term therapy and integrative approach that is effective and soft. Healing takes place in one to three sessions and is executed at a deep level engaging both the conscious and subconscious parts of the mind.
What are your greatest challenges in treating patients?
Not enough time to get everyone in on one day! Not enough free time to continue to increase my skills and knowledge as an RRT practitioner to be even more effective at greater levels.
Please describe a typical day; from when you arise to when you retire for the night.
Mondays, Wednesday, Thursday:
4:20 am: I get up and write (pages and book content); 5:30 am: workout or run, 6:30 am: I walk the dogs around the block, 6:40-8 am: I shower, dress, get kids ready for school, pack lunches, make breakfast, eat breakfast together, 8-8:30 am: school drop off, 8:45 am-5 pm: I see clients, write article inquiries, social media, write book content, return phone calls, 5-7:30 pm: dinner, bedtime routine, read books with the kids, sometime a show, 8-10:30 pm: additional writing, social media, sometimes a client call or phone meeting and one night a week TV/Netflix!!
Tuesday days are 'terrific Tuesdays' and I take the kids to school and pick up. I write from 9 to 11 am and in the afternoon I run errands and enjoy kid time!
Fridays are similar with writing or clients between school pick ups and drop offs!!
As I am sitting writing this, my kids are softly playing, and the television is on in the background. I grab my laptop anytime I can. Whether it is to peek at emails, write a sentence in my book, always hoping to catch up or contribute to something. Now, I know I shouldn't admit how much I work. It's not cool or empowHERing to admit what it really takes to make my life run.[To be honest, I'd much rather say I'm playing in the pool, or completely engulfed playing legos.] But I won't back away from sharing seeds of healing and wellness:
I work on the weekends
I send most emails when my kids are sleeping
I often feel rushed or like I cannot get things done fast enough
I respond to social media comments while making breakfast and packing lunches, in line while picking up my kids, between sessions, and anytime there is a second
Most days lunch is very similar
Sometimes I cry when I get so tired and swear I can't do anymore
I read up on things while getting a manicure and usually have my kids with me
I order groceries online because the lines and business at the supermarket make me crazy! It takes precious time I could be using for trying to help others
I know life won't always look like this (nor do I want it to be the norm), but–for now–this is the reality of my life and I love it.