Even if you have never exercised regularly before the age of fifty, it is not too late to start.  Regular physical activity improves one's overall mood, reduces joint pain and lowers blood pressure as well as the risk of developing osteoporosis, heart disease and diabetes. Exercise can be an effective treatment for many chronic conditions. Studies show that people with arthritis, heart disease, or diabetes benefit from regular exercise.  For older adults suffering from chronic pain, exercise and physical therapy are critically important to reduce or eliminate pain and reduce the risk of future health risks.
Get Medical Clearance Before Taking Off – "It's important for Boomers to get a doctor's approval before starting any exercise program, particularly those people with preexisting conditions," says Dr. Richard Frank, Medical Director for Medicare products at Anthem Inc. "Furthermore, anyone who experiences discomfort while exercising, including dizziness, shortness of breath or chest pain should stop immediately and call a doctor. It's important to listen to your body."
"Provided that one has permission from their doctor, older adults suffering from chronic pain, should definitely exercise," says Jill Goldman, instructor and owner of the Rite Method Barre Studio. "People suffering from chronic pain should do non-impact core conditioning exercises combined with yoga stretches."
"To achieve the best results, it is important to locate the source of the pain so that the trainer or fitness studio can customize a workout to facilitate relief," adds Goldman.  "Chronic pain is generally the result of inflammation, overuse or other muscular skeletal problems.  Regular exercise is important in treating chronic pain because it increases joint mobility, strengthens muscles, improves circulation and releases endorphins."
Chronic Injury Requires Recovery Time – "When you've experienced an injury, it's important to recover before getting back to your normal exercise schedule," says Dorian Lipoczky, founder of Sphericality and a BarreAmped® Master Trainer, Certified GYROTONIC® teacher.
"If you put stress on the affected area before it's completely healed, you risk injuring it all over again, and that can result in more damage and more recovery time. To maintain fitness while recovering from an injury, you should modify your routine. There are exercises you can do that not only produce results but can also help you prevent or recover from injury."
"Workouts that promote core stability, strength and flexibility can increase your performance, prevent injuries and help you maintain fitness while you heal," says Lipoczky.  "Some of the best low impact exercises that build muscle include Pilates, Barre Fitness and Yoga."
The Longest Journey Starts with a Single Step – "Don't try to change years of inactivity at once," says Dr. Frank.   "It's best to start with moderate exercise, building up to 150 minutes of weekly exercise. The CDC suggests breaking exercise into smaller, more manageable chunks throughout the day. For example, a person might do moderate or vigorous intensity exercise, such as walking at a moderately intense pace, for 10 minutes at a time. Keep in mind that any physical activity is better than none at all."
"The mind body connection is the starting point," says celebrity fitness trainer, Joel Harper and author of Mind Your Body. "If it doesn't feel good, then most likely it is not." Harper recommends starting off by using your own body weight as your gym.  "You want to pick a body part and do exercises that work from every angle and you want to stretch the muscles after each of these exercises.  It is important to remember that the stretches should feel good. When you stretch, relax into it and don't force it.  After every workout, you should feel tension free and energized."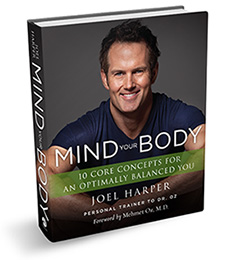 "Training after the age of fifty is going to be more difficult but it is worth the effort you put into it," says Mike Chang, a certified trainer who has one of the top fitness YouTube channels, with more than three million subscribers. He is the founder of Mike Chang Fitness, with Insane Home Fat Loss and Six Pack Shortcuts. "Many younger people who work out are using a split workout routine, where they work out a different body part every day with very little rest or days, if any, between workouts.  This is where some older men and women run into problems.  They think they can work out the way they used to.  The truth is that their body's natural anabolic hormones are not produced in the quantities that they used to be so older people will need more time to recover.  The best option is for them to perform muscle group workouts a few days a week to allow for the recovery of the muscles before the next training session."
"An exercise regimen for people over fifty, should focus on stretching, low impact, non-weight bearing exercise and weight lifting within the mid-range, not end point," advises Richard Sedillo, Physical Therapist and Certified Orthopedic Manual Therapist at the Arizona Manual Therapy Centers. "I recommend riding the bike and doing the UBE (upper body ergometer).  Those who are in good shape can also do the elliptical.  While walking is good and easy for most, it can cause irritation to already inflamed tissues. Listen to your body and don't push yourself if you are hurting and remember to ice areas affected by chronic pain for 15 minutes daily, especially before bed."
"For individuals suffering from chronic pain due to conditions such as arthritis, joint conditions, fibromyalgia, etc, it is best to start with gentle exercises," says Becky Harris, Fitness Manager, Harrogate Senior Living.  "Try getting in the pool for swimming, or even just walking back and forth. The pool is a great low impact environment that will allow them to move without causing stress on the body. Other great exercise options would be walking, riding a stationary bike, or yoga."
Build an Exercise Community – "Build a community around fitness. Group fitness classes can be a great way to stay motivated," says Dr. Frank.  "Most Anthem-affiliated Medicare Advantage plans include the SilverSneakers exercise program at no extra cost. SilverSneakers features a gym membership and special classes tailored to seniors. Other insurers may offer SilverSneakers or similar programs. Check your plan for details. Experienced class members are often eager to share their experiences with newcomers."
"People over fifty may want to consider using a personal trainer or a training partner," says Chang.  "To build muscle and burn fat, the right amount of weight is important.  Negative reps are being used more and more now.  The idea is that you want to stress the muscle but not too much.  For example, if you are doing bench press negative reps, your training partner will help you get the weight up to the top of the movement and let you resist the weight as it goes down which helps to prevent ligament, tendon and muscle injuries."
"Harrogate Senior Living is an active aging retirement community in Lakewood, New Jersey," says Harris.  "The majority of residents living here realize the important role that exercise has allowed them to feel their best and live a long, optimal life.  We have 20 group classes weekly which give our residents a large variety of classes to choose from."
Commit to an Exercise Lifestyle – "People over 50+ should exercise at least three times a week," says Goldman who teaches the RITE Method (Resistance Interval Training Exercise) which is based on the original exercises developed by Lotte Berke over fifty years ago.  Goldman's Fusion Class is a 60 minute non-impact core-conditioning, weight baring class that uses floor and standing exercises, dance movements and yoga stretches.
"The simple idea is to work out three days a week with moderate weight, negative repetition training, and, in between, make sure to stretch and maintain mobility to help heal your body so that you can enjoy your life," says Chang.
"I recommend starting off with ten minutes a day for three days with the fourth day off, and gradually build up by five minutes a week," says Harper.  "So the second week would be fifteen minutes a day and the following twenty minutes a day which gives your body time to adjust, build stamina and to gradually get stronger and stronger."
"I recommend exercising three times a week for maintenance, five to seven days a week to build muscle and endurance," says Sedillo.  "Exercise should be done with purpose and goals need to be set.  I suggest a minimum of thirty minutes of cardiovascular exercise (bike, elliptical) at target heart rate."
Have a Good Time – "It's important to mix up exercise to keep it fresh and fun," says Dr. Frank. "For instance, many people exercise outside by walking on a beach, hiking through a forest or gardening in their backyard. Someone else might enjoy trying yoga, which has the added benefit of helping Boomers improve their balance and possibly reduce falls."
Exercise and Therapy Reap Benefits – Mature adults are greatly benefiting from regular exercise.  Goldman points to Marilyn S., age 71 (in photo below) who has been attending her RITE Method class five to six times weekly over the past thirteen years.  She credits the class for increasing her vitality and range of motion.
"Everyone I know has tension in their bodies," says Harper.  "Most of the tension comes from muscle imbalance and neglect.  I look at exercise as analogous to brushing your teeth and stretching as flossing.  If you do not do it for long period of time, you are going to get cavities or worse.  The same goes for the body. I see clients daily who come in with tension and pain and leave feeling like a whole new person."
Sedillo has helped many people overcome their chronic pain as he "identifies clinical patterns and properly assesses and diagnoses patients and then provides a treatment plan that reduces or eliminates pain."  Recently a 52-year old golfer presented with low back pain.  After seeing a pain specialist and getting three epidural injections, he still was suffering from pain.  After Sedillo evaluated the patient, he began to work with him on his hip, which was the root cause of the problem, and it relieved his lower back pain.
A 62 year old female presented with fibromyalgia. For 35 years, she had gone to various specialists who prescribed pain medications.  Upon examination, Sedillo found that her pain stemmed from her shoulder, which emanated to her neck.  He treated her shoulder with manual physical therapy and put her on an exercise regime.  An MRI revealed that she had a major tear in her shoulder.  After shoulder surgery, she is now pain free and no longer has "fibromyalgia."
"The moral of these stories is that when addressing body pain, proper evaluation and diagnosis is key," says Sedillo.  "You should not have to live with pain.  You just need to identify the problem."
For more information on living a healthy lifestyle, please "like" Salonpas on Facebook and follow us on Twitter!