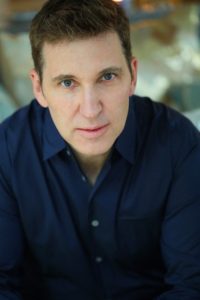 Ted W. Baxter is, literally, a wellness warrior: he fought his way back from a near-fatal stroke from which doctors said he might never recover. Baxter was a globe-trotting financial executive and just 41 year old when a massive ischemic stroke hit without warning. It robbed him of speech, mobility and more. But he pushed himself to learn everything he could and beat the odds. He consulted doctors, research, and experts, driven to recover. 
Now speaking and walking, he's considered a neurological miracle — and knows what works firsthand. he's also an outspoken advocate for stroke and aphasia sufferers who believes that revolutionary strategies can help people better regain their lives. His new book is  Relentless: How a Massive Stroke Changed My Life for the Better.  Salonpas sat down with Ted Baxter to learn how he beat the odds and what lessons he has to share:
Did you have any history of this type of stroke in your family and did you have any warning signs?
Nothing in my family signified that I could get a stroke like I had. My mother died from pancreatic cancer and my dad died from Parkinson's Disease. And I had no warning signs. I never had any mild strokes, such as a transient ischemic attack or TIA, either. My health was great: I exercised almost every day, had low cholesterol, didn't smoke, and only drank modestly. I was "healthy as a horse…" as one doctor said, and took really good care of myself.
But due to my job I was on airplanes a lot — I traveled constantly. You're supposed to wear compression socks on the plane, and I always did. I stayed hydrated, which is important for long flights. I think my stroke situation was more due to factors like job-related stress and pressure. I was in the financial services world, and it was normal for get on a plane to fly overseas to another city. Usually I'd develop a presentation and a speech I had to give to a CEO later that day — and break out my laptop to answer twenty business emails in-between working on the presentation. I'd also be reviewing the P&L figures for that day, so I could make sure I had all the appropriate answers by the time I landed. It was frenetic, but it was "as per usual" for me.
How fast did you get to the hospital for treatment when your stroke was identified?
I got to a hospital immediately — it was a hospital in a suburb of Chicago, and I spent about ten days there. Then I moved to another hospital, the Rehabilitation Institute of Chicago, and spent eight or nine weeks there as an inpatient.
How did you recover?
It was a long, long road. Within me, I had certain factors I think helped: grit, perseverance, determination, and a will to always try to do different things. I was never afraid to fail and I always got myself back up. So I had faith and I was relentless.
My main recovery really took place in stages. After 3 weeks in the hospital in Chicago, I had a physical therapist and an occupational therapist, who helped me to learn to walk again, and how to deal with the limited mobility on my right side. They showed me how to do certain exercises using light weights and moving myself up and down from a chair.
After I was released from the hospital, I wanted to work with a trainer to help me do basic exercises and work on muscle memory, so I joined a local gym. After I started to get my physical mobility back — in order to at least move, I also created a personal plan for myself after I left the hospital: I bought flash cards and went from Kindergarten through Grade 6. I also enrolled in the University of Michigan Aphasia Program in Ann Arbor. It was an intense program: Monday to Friday, 8 hours a day for six weeks. I had to move up there to participate. When I got back, I became an outpatient at the Rehabilitation Institute of Chicago, and I joined their Aphasia Club. Then I went to Northwestern University of Evanston, Illinois, and participated in a lot of research, experiments and therapy sessions. I did pilates, yoga, and boxing sessions to help not only physically, but also with learning, comprehension, and memory — it helped me to have to memorize the exercises and how to do them.
In terms of the later stages of my recovery, I'd say it took me 5 years to really feel the benefits of the research, personal practice, and therapy. Then I moved to Southern California. The speech directors that run the volunteer stroke survivors program there asked me to help teach stroke survivors tactics and strategies to regain their speech. I began teaching them the methods that had worked for me — in terms of gaining confidence again and getting my speech back.
How long did your recovery take?
Well, I wouldn't consider myself fully, one hundred percent recovered now. There are always things you can improve in yourself as far as the stroke and aphasia goes. It was ten years after my stroke incident that I would say I primarily recovered my speech and my mobility. Every day I'm speaking better, and physically improving by working out four times every week — I do yoga, pilates, or weights.
Whenever I'm asked this question, I always use the concept of osmosis: the process of gradual or unconscious assimilation of knowledge, or in my case, the gradual but continuous, successive, piecemeal process of recovery.
Are you the same person today that you were before the stroke?
I am the same person in terms of the moral fabric of my persona: work hard, stay positive always, have faith, focused, never give up, and have determination. The stroke situation hasn't changed that. I didn't diminish my will, my determination or my faith. In fact my stroke incident has amplified these things.
How has your life changed?
Because of the stroke, I had to change how I live —which started as I went through rehab and recovery and is still happening now. You could say I learned new ways to skin a cat with similar results. I do the same things I used to, but I do them a lot slower. In terms of my speech, I take my time. Before I speak, I make sure I understand what we're talking about. I am more aware of people now — instead of speaking and reacting quickly, I use the art of listening. I'm a really good listener.
I've learned how to appreciate life more in a balanced way. For example, I don't get absorbed in only one thing. I've learned that having a successful career is maybe not the most important thing in life. In my situation, what matters more are better relationships, giving back or volunteering, traveling and doing things that are away from my traditional work, such as enjoying art or reading a book. My life is so much more meaningful than it ever was before.
I knew that my old job in the financial industry wouldn't work given the shortcomings I now have. So I went to the medical and wellness industry, thinking I could help some of the people who have strokes or aphasia – if I could give them hope and encourage them to do something different, as I have done. Then I decided to do some research. If I could write a piece about my own stroke situation, that would help. That meant I needed to remember my experiences, and that meant talking to a lot of people who were involved in my stroke situation. That "written piece" became a memoir — and that became an actual book. It took me about five years. And was a lot of work, and I used it as a form of therapy: I not only became a better writer, but my memories became very clear and vivid.
My view is this: If I can help more people who had a stroke like I did, give them a chance to get better at speaking, and teach them some of my own techniques and tips, everyone would benefit. Now, I'm a volunteer for a hospital, involved in a communication recovery program for stroke survivors and people with aphasia. I help stroke survivors and people with aphasia to speak out. I encourage them to not be afraid of trying different things. As a stroke advocate, I spread awareness about the tolls of stroke and aphasia, and how to support and help people in this terrible situation. Helping others gets me outside of my own head. It keeps my sanity intact, gives me a purpose, boosts my pride and self-esteem, and it's good for my ego. But I've also become more humble, and far more conscious of my own shortcomings.
What advice do you give others in terms of finding their own rehabilitative path?
My advice is to start by maintaining a positive attitude and have faith. Without these, you will never have a successful outcome.
When facing difficulty, make sure you recognize it as soon as possible, so you can immediately begin to acknowledge and even accept the reality of your situation. You will find it is very difficult to deal with it unless you accept it.
Then, start small. Make small achievements. And just know: when you take risks you learn that there will be times when you succeed and will be times when you fail, and both are equally important. Consider failure as your teacher, not your foe. See the negative outcomes as opportunities to grow and learn. Courage to continue that counts! Try different things you never thought would work.
Find a mentor who can be a sounding board for your ideas and questions.
Realize having alone time with yourself is fine.
Never give up searching for the right path to pursue. And sometimes, you should laugh at yourself. It's good for your soul!
And consider having a dog! Especially if you are going through the stages of rehab and recovery, I absolutely think you should have a dog if you can. No matter what you are doing or how depressed or down you are, your dog is always be there for you. That love is important. I have a dog now, who helps me in ways that I can't even describe.