"Kindness is like snow. It beautifies everything it covers." – Kahlil Gibran. With that beauty comes caution and some tips to snow shoveling and avoiding icy spills. Cold weather can be a pain in more ways than one! Freezing temperatures, ice and slippery snow can also wreak havoc on your body in surprising—and avoidable—ways. From backaches to foot pain, here are some ways that the winter can make your body ache, and what to do to feel better.
Sure, snow looks beautiful but shoveling snow can cause back, shoulder, and chest pain, and the wetter the show is, the heavier it gets. Shoveling can puts strain on your heart so if you have heart problems, it is important to get someone else to do it for you. However, everyone needs to be careful. About 11,500 people are treated for snow-shoveling injuries each year, according to a study in the American Journal of Emergency Medicine.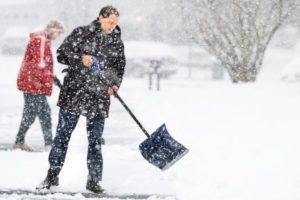 Before shoveling snow, stretch your muscles to prevent injury, dress in layers to stay warm and take regular breaks. When shoveling, be sure to bend your knees and lift with your legs. As you lift the snow, keep the shovel blade close to you to reduce back strain.
Beware of Ice!
When the sidewalks and driveways are covered with ice, walking on ice is a balancing act for even the most athletic among us—and you may find that you are tensing your body to brace yourself for a potential fall. This can take a toll on your muscles, making you feel achier at the end of the day—and more likely to injure yourself.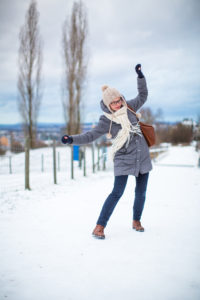 Experts say that, when walking on ice, the safest thing to do is a shuffle step without lifting your feet. Also, make sure that you are wearing waterproof winter boots that are comfortable and will ensure that you are slip-free.
For more information on living a healthy lifestyle, please "like" Salonpas on Facebook and follow us on Twitter!