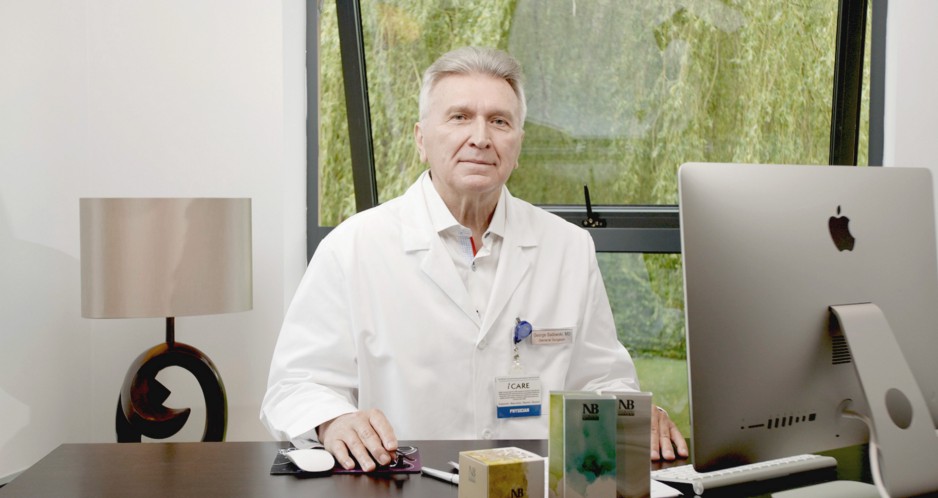 With more than 30 years of experience in medicine under his belt, Dr. George Sadowski founded the skincare brand Nourishing Biologicals, and he has giving back to the community in a big way with the company's NB Cares program. Salonpas sat down with Dr. Sadowski to get his advise about how to age gracefully, health and wellness tips he recommends while quarantining.
What was your catalyst for founding a skincare brand?
Early during my career as a surgeon, I noticed the tremendous impact that scars and other skin disorders had on my patients. They were more concerned with the appearance of their scar than whether the surgery went well. I had tried various skin creams and lotions but none seemed to work. When I met Grace Latuberza, the world-renowned esthetician, we found great synergy in our discussions. She had a great deal more experience with skin lotions and potions but didn't think that they worked. Her spa clients were not satisfied with the cosmetics available and voiced their concerns. Grace had worked in spas throughout Europe and had been an esthetician to the royal Saudi family and had seen and used most of the products offered around the world. Her conclusion was the same, that nothing worked. Because of this we decided to make our own. It was based on the free radical theory of aging. That's how we all age. We did a world scientific literature review and found ingredients that were proven to work and were backed by science. We have a passion to create products that work the best. So, this is how the products were made.

The damage from free radicals comes in a variety of ways and many ingredients are needed to block harmful pathways. That's why our products contain vitamins, minerals, anti-oxidants, anti-inflammatories, immune-modulators, growth factors, hyaluronate, collagen, polyphenols and many others in a nutritious sea kelp base. The nutrients in our sea kelp base alone would be more than what others have. So, this is a very complex and sophisticated product that works and we have a 12-week clinical trial to prove it.
Tell us about your NB Cares program.
We have a strong feeling of gratitude in our organization and to give back to our communities. That's why we have donated hundreds of thousands of dollars of products to many of our first responders and other heroes. We also have plans to do this again this month. We also feel that we have an obligation to take care of our employees as best as we can.
What advice do you have for people to deal with stress during the pandemic?
The wearing of masks and social distancing is part of our lives, at least until the pandemic resolves. But they are not a substitute for hand hygiene and avoidance of hand to mouth, face, eyes, ear contact. If you're doing that you probably have a 90 percent chance of avoiding it and you shouldn't stress. Stress itself can decrease your immune response so if you allow the stress to creep in, you're only hurting yourself.
What are your top three tips for our readers on how to age gracefully?
It's all about health and wellness. Everyone's goal should be to increase their health span so you can feel well as you age. The top components that come to mind are ideal body weight, regular exercise to prevent loss of function and healthy eating.
Please describe a typical day in your life; from when you arise to when you retire.
My days vary in intensity and I don't always know what I'll have to do. I awaken early and get on a brisk, five-mile walk. I go to the office to see how things are going and what needs to be done. I still do a lot of research and writing between interviews and appearances.