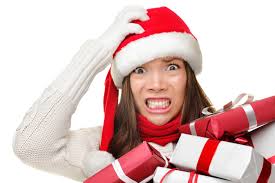 As we struggle with shopping lists and invitations, compounded by winter's unpredictable weather, many of us suffer from extra aches and pains that are exacerbated by the pressures of the holiday season. Salonpas® offers some tips and techniques, from our cast of medical authorities, to ensure a happy, healthy and pain-free holiday season:
Making a List and Checking it Twice – "High levels of stress can cause 'psychosomatic' symptoms such as physical pain," says Dr. Sanam Hafeez, a New York City-based neuropsychologist. "If you feel stress coming on, make a list of things to do (or buy) and order the items by priority."
What are Dr. Hafeez's top five tips and techniques to lower stress and reduce or eliminate pain?
Deep breathing exercises – Helps to reduce chemicals associated with stress and is calming.
Positive imagery exercises – Helps to calm the senses by imagining a safe relaxing place.
Yoga – Helps you relax your mind and body.
Physical exercise – Produces feel-good chemicals like adrenaline or epinephrine.
Communication – Talking about problems helps to alleviate stress.
"There is a big correlation between stress and chronic pain," says Dr. Francine Lederer, a Clinical Psychologist in private practice in Los Angeles who is an expert on health issues, stress, and mood disorders. "A number of my patients who suffer from health related issues such as cancer, back pain, high blood pressure, fibromyalgia have emotional stress that they have been carrying years before their health diagnoses."
Keep in mind what is most important about the holiday season – seeing family and friends, being kind to each other and relaxing over good times. Finding the perfect gift is not very important in the grand scheme of life. Some famous quotations show us the light:
"Probably the reason we all go so haywire at Christmas time with the endless unrestrained and often silly buying of gifts is that we don't quite know how to put our love into words." ~ Harlan Miller
"The best of all gifts around any Christmas tree: the presence of a happy family all wrapped up in each other." ~ Burton Hillis
"Gifts of time and love are surely the basic ingredients of a truly merry Christmas." ~ Peg Bracken
"Christmas is not as much about opening our presents as opening our hearts." ~ Janice Maeditere
"Christmas is doing a little something extra for someone." ~ Charles Schulz
For more information on living a healthy lifestyle, please "like" Salonpas on Facebook and follow us on Twitter!