There is no doubt that 2020 is a year that most of us are happy to see behind us. As we experience the last few days of this turbulent year where COVID-19 sadly had a starring role, many of us look to 2021 for new beginnings.
So, now, it's that time of year again where many of us reflect on the past twelve months and resolve to make positive changes in the New Year. Are you making New Year's resolutions? Are you thankful for your glad tidings and optimistic for the coming year? In the spirit of reflection and thankfulness, please find assorted famous quotations on resolutions to meditate on in the coming days: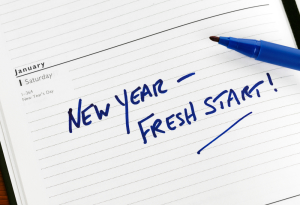 "Let our New Year's resolution be this: we will be there for one another as fellow members of humanity, in the finest sense of the world." – Goran Persson
"New Year's Resolution: To tolerate fools more gladly, provided this does not encourage them to take up more of my time." – James Agate
"Always bear in mind that your own resolution to succeed is more important than any other." – Abraham Lincoln
"How few there are who have courage enough to own their faults, or resolution enough to mend them." – Benjamin Franklin
"A New Year's resolution that I can never keep? To be able to make decisions." – Ashanti
"Dates that come around every year help us measure progress in our lives. One annual event, New Year's Day, is a time of reflection and resolution." – Joseph B. Wirthlin
"Tomorrow is the first blank page of a 365 page book. Write a good one." – Brad Paisley
"We spend January 1st walking through our lives, room by room, drawing up a list of work to be done, cracks to be patched. Maybe this year, to balance the list, we ought to walk through the rooms of our lives…not looking for flaws, but for potential." – Ellen Goodman
"For last year's words belong to last year's language. And next year's words await another voice." ― T.S. Eliot, Four Quartets
"Cheers to a new year and another chance for us to get it right." ― Oprah Winfrey
"Make New Year's goals. Dig within, and discover what you would like to have happen in your life this year. This helps you do your part. It is an affirmation that you're interested in fully living life in the year to come.
Goals give us direction. They put a powerful force into play on a universal, conscious, and subconscious level. Goals give our life direction.
What would you like to have happen in your life this year? What would you like to do, to accomplish? What good would you like to attract into your life? What particular areas of growth would you like to have happen to you? What blocks, or character defects, would you like to have removed?
What would you like to attain? Little things and big things? Where would you like to go? What would you like to have happen in friendship and love? What would you like to have happen in your family life?
What problems would you like to see solved? What decisions would you like to make? What would you like to happen in your career?
Write it down. Take a piece of paper, a few hours of your time, and write it all down – as an affirmation of you, your life, and your ability to choose. Then let it go.
The new year stands before us, like a chapter in a book, waiting to be written. We can help write that story by setting goals."
― Melody Beattie, The Language of Letting Go: Hazelden Meditation Series
Everyone at Salonpas wishes you a happy and healthy 2021!
For more information on living a healthy lifestyle, please "like" Salonpas on Facebook and follow us on Twitter!