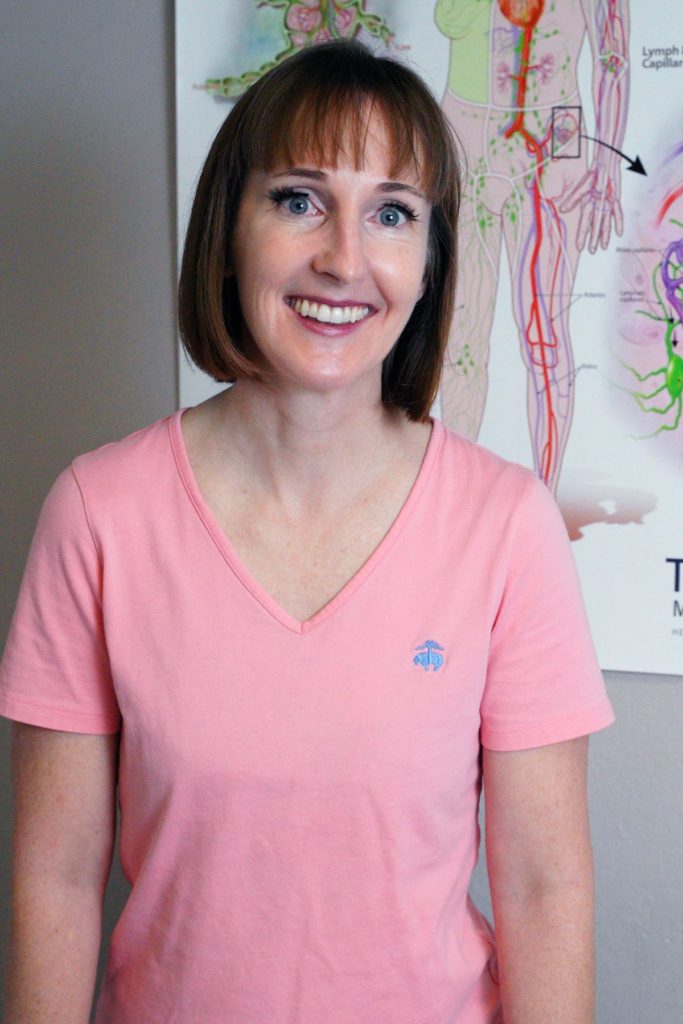 Kathleen Lisson is a a Certified Lymphedema Therapist and Board Certified Massage Therapist in San Diego. She help clients heal holistically from plastic surgery including liposuction, Brazilian butt lift and tummy tuck with lymphatic massage, guided meditation, postop exercises and nutrition tips. Salonpas sat down with Kathleen to learn more about her world:
What does a Lymphedema Therapist do and how does this differ from traditional massage?
A Certified Lymphedema Therapist has taken a 135 hour class that provides hands on training in a variety of methods that help reduce swelling, including manual lymphatic drainage massage (MLD) technique, bandaging, exercise and skin care. Manual lymphatic drainage uses a light pressure skin-stretching stroke that targets the body's lymphatic system. More popular types of massage like swedish and deep tissue use deeper pressures and target sore muscles. As a massage therapist, I can use my training in both MLD and deeper massage to help reduce swelling as well as relieve the client's back and neck pain. 
Are your services strictly for those recovering from cosmetic surgery?  What makes massage for cosmetic surgery patients unique?
Yes, I limit my practice to helping clients after plastic surgery procedures including liposuction, tummy tuck, facelift, and brazilian butt lift as well as oncoplastic procedures including breast reconstruction after mastectomy or lumpectomy.  A client who is coming in a few days after surgery with fresh incisions and taking several different prescription medications is completely different than a healthy client coming in for a relaxation massage. These clients require a therapist who has a thorough knowledge of their procedure, talent in performing the massage and knowledge of how to support clients both physically and emotionally and keep clients safe during their recovery.  
Tell us about your journey to become a wellness warrior.
I have found that people recovering from plastic surgery are concerned about much more than just weight loss. They are very open to changing many areas in their life because they know that they have to make new habits and keep them to keep their results. I'm glad that I can use some of the things I learned as a meditation teacher and personal trainer to help them during their recovery.
I first became interested in meditation when I heard that it could have a positive effect on my running. I took the first m-PEAK meditation training offered at the University of California San Diego's Center for Mindfulness and later traveled to Sedona, Arizona to become a MMI-certified meditation teacher. Meditation has become a powerful way to reduce my anxiety, improve my sleep and increase my peace of mind. I especially like practicing gratitude and Loving-kindness meditation. I offer several guided meditations for my clients and the public on my YouTube channel, including a meditation for before and after plastic surgery.
I became an ACE-certified personal trainer and fitness nutrition specialist because I have seen the positive effect that long distance running has had on my life and peace of mind. Encouraging clients to return to exercise that they truly enjoy after they have recovered from surgery is a powerful way to boost their chances of long term success. Often, clients have shied away from gyms and exercise because of self-consciousness. If the plastic surgery was a success, clients should be able to enjoy their new body and be encouraged to try out exercise with newfound confidence. 
Please share a typical day in your life, from when you arise to when you retire.
I wake up and focus on completing my big four morning activities – drinking a bottle of water as well as a pot of barley tea, meditating for 10 minutes, finishing a 10 minute abdominal workout and making breakfast with leafy green vegetables, red and orange vegetables, berries and whole grains. I then go through my email and fit in a run before heading off to work at my studio. I usually get inspiration from my conversations with clients to videotape a Tik Tok or post on Instagram between clients. When work is over, I return home and eat dinner with my husband and then focus on reading, email and watching episodes of my favorite Chinese period soap operas. 
I keep organized with a pen and paper list of my top three tasks for the day as well as a dry erase board in the kitchen where I get to draw a smiley face next to my daily wellness goals when they are completed. Right now my daily wellness goals are meditating, eating a salad, exercising, doing my ab workout and reading for a class I am taking. Using the dry erase board is a really effective way for me to form and keep new habits. If I'm feeling frazzled or sluggish, I can look at a glance and see – am I meditating less? Am I eating my salads? Am I exercising? This makes it easy to get back on track.