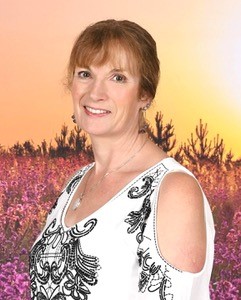 Rachel Baer, Yoga Keeps Me Fit, helps keeps seniors strong, mobile and independent. As a wellness warrior for seniors, Rachel leads seniors in chair yoga and teaches them about preventing falls. Due to the pandemic, she is currently teaching sessions via Zoom as the senior centers are closed. Salonpas sat down with Rachel to learn more about her work:
Tell us about your qualifications.
I am an E-RYT 200 yoga instructor with many years of experience both practicing and teaching yoga.  Amongst other additional trainings, I have also completed a 100-hour yoga therapy certification.  
I trained as a Fitness Instructor in the UK before moving to the US in 2003, my focus is now on Chair Yoga and Fall Prevention for seniors and those with disabilities. 
I am constantly amazed at the difference yoga makes in the lives of my senior yogis, many of whom are in their eighties and nineties and are still committed to their yoga practice.  This is truly my calling.
What was the process of moving clients from in-person to Zoom like?
The process of convincing my older clients to move to Zoom for their yoga sessions in some ways was easy, in other ways more challenging. I needed to buy a laptop to make it easier to manage emails & online classes. With the help of my son who was doing online college classes I chose, purchased & familiarized myself with my new equipment.
I had used Zoom myself a few times prior to the pandemic but had never hosted a session.  Fortunately, I already had an email list for my clients and was already sending out regular emails.  Once I started to offer the classes, interest grew.
My more confident yogis signed up straight away, gradually as it became clear that the pandemic was more long term than first thought the word spread as more friends & family members signed up, grateful to have some form of familiarity in their lives.
I assured them there was really nothing to lose, try the class a few times & if they didn't enjoy it, I would not take it personally.  Although not the same as in person sessions, it is currently the only way to continue class.  We all have our favorite fitness classes and over time, I and my clients have come to love our remote sessions, looking forward to seeing each other in our little Zoom squares and chatting briefly with friends both before and after class.  I try to keep it as lighthearted & fun as I would for an in person class.
How is the Zoom Classes Different than In-Person?
I have been encouraged to see husbands and partners that would never have come to a class at the senior center take their place in their front room or basement, ready for chair yoga.  I have people I have not yet met in person enjoying class, even chatting and waving to their friends before class.  I always open up the Zoom room fifteen minutes before class as human connection, in whatever form, is good for our souls.  We have created our own little online community.
Classes were small at first, but as rainy days came and the news spread by email and word of mouth, more people signed up.  Although there are many seniors who can't join in due to not having Internet access, or not feeling confident with technology, I have been overwhelmed by the support I have received.  Many of my clients have come to prefer the ease and convenience of at home fitness and want to continue even when in-person classes resume.  I see Zoom being a part of our lives for the foreseeable future.
Why did you decide to focus on serving seniors?
I decided to focus on fitness for seniors in 2014. I took a senior specific yoga training and I learned about safe modifications for seniors or those with injuries in my mat yoga class. The following week, I was asked to substitute for a chair yoga class at my local senior center, and if I had not taken that training, I would not have been able to step in.  The subbing position was originally for six weeks, I am still teaching that same class seven years later, a few of these people have been with me all this time and I have come to form friendships with several of them, going out to lunch or coffee on a regular basis, something that I really miss from pre-Covid times.
After only a short time teaching chair yoga for seniors I began to see so many amazing changes in their bodies, yoga was improving their lives, reducing pain and making their bodies stronger one class at a time.  It was a year after I started teaching this class that I had unexpected surgery, my knowledge of chair yoga helped me recover more quickly using safe and effective poses. 
I am convinced of the power of this gentle and effective method of yoga to change lives, this is what keeps me doing what I do.  I have a clear purpose in improving seniors' lives. 
I have been interested in personal wellness for many years & this naturally flows over into my fitness instruction with seniors.  During each class I give several reminders to drink water and to remain hydrated during the day.  During both the classes and in the weekly newsletters I send out, I regularly stress the importance of a healthy lifestyle, to keep moving & maintaining a healthy weight.  Eating as naturally as possible is a way of life to me and I share my enthusiasm for healthy living with those that I spend my time with.
My work with seniors has had a huge impact on many lives over the past decade.  I have numerous testimonials telling me how lives have been changed, injuries have healed & how much stronger and more independent individuals have become since taking my classes.  We practice simple stretching and strengthening poses that equip them for everyday living. 
What do seniors most fear?
The main thing most seniors fear is falling and the life changing consequences that a bad fall can have.  My goal is to keep my yogis strong by teaching simple strength exercises that help avoid falls in everyday living.  Right now, we are all in our homes most of the time due to the pandemic, however as 55% of falls occur in the home it is more important than ever to be aware of and make changes to our home environment while keeping ourselves strong, confident & independent.
The impact of my work does not just stop with my clients but reaches into the lives of families that are not burdened with the worries & extra duties that life changing injuries from falls can bring.
Loved ones stay stronger, happier & independent for a longer period of time, often the many aches & pains of aging bodies are alleviated by stretching and strengthening.  Seniors are able to avoid the depression that can set in from the isolation, pain & fear that come along with falls. 
The most positive change from this pandemic is that many husbands are now joining their wives in class.  Many men, especially seniors, tend to shy away from yoga as it is often female dominated.  Since April 2020, they have watched from a distance as their wives took class, then started to join in from the back of the room.  I regularly have multiple couples joining in each day.  Being "captive" in our own homes has shown us the value of online classes and it brings me so much joy to see them all & witness the difference I am making. 
I am fortunate to love what I do, I am very fond of all my yogis and look forward to when we can hold in person classes again, for now I am grateful that technology has made it possible for myself & others to continue this important work.
Tell us about a typical day in your life, from when you arise to when you retire.
A typical day in my life starts around 6.00 am when I wake up, usually before my husband's alarm goes off, I stay quiet for ten minutes or so, enjoying the peace of a new day before getting dressed in my workout cloths that I have laid out the night before. This is to make sure I have no excuses not to exercise.
Feeding our two rescue cats is the first and most important job of the day, they are always excited to greet me in the morning, although this may be because they know it's breakfast time.  I make tea for us both, we empty the dishwasher together and usually have breakfast with the news on in the background. 
Our current routine is a little different since the pandemic, my husband now walks to work (to the living room).  Instead of heading out to the gym for a 6 am class, I descend to the basement where I do either cardio and strength training, yoga, or Pilates.  I tend to alternate depending on my mood and energy level.
After exercising I get showered and ready for my Zoom chair yoga class which is at 10 am.  I will have already moved the furniture around to accommodate my yoga mat and the laptop set up at opposite ends of the room.  I love greeting my yogis on Zoom, seeing so many friendly faces in the morning is a real happiness boost.
After class I rearrange the furniture, edit the recording and send it out to those who can't make the 10 am time slot, so they can take class when they are able.  The rest of the day is spent writing, reading, housework and I am currently taking additional yoga workshops/trainings.  I am making good use of the additional time at home to be as productive as possible. 
As the weather gets warmer, I will be outside getting the garden ready for spring planting, digging out a couple of new gardens I have planned for this year, including installing a Little Free Library at the edge of our property. I thought this would be an easy & fun way to help our immediate community and start up new conversations with neighbors.
We usually eat around 6 pm and after supper we catch up on emails, watch some TV or a show on Netflix, read and go up to bed around 10.30 pm.  During the summer evenings my husband and I will often walk in the evenings, do additional gardening, go swimming or kayaking or sit outside on the deck together which is always enjoyable at the end of the day.