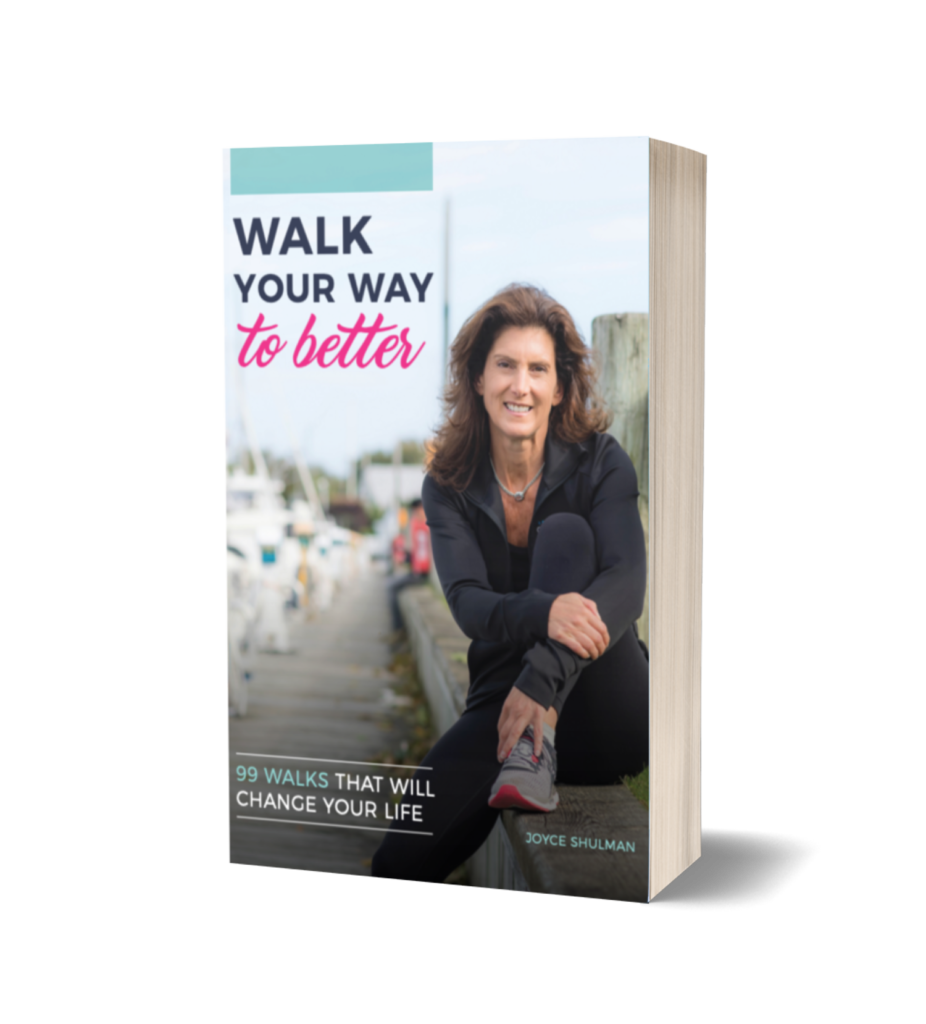 Joyce Shulman, founder and CEO of the walking app 99 Walks and Macaroni Kid reaches millions of moms each month with hyper-local and national e-newsletters and websites, social media content, video and her Weekly Walk podcast. Having created a one-of-a-kind digital platform, she connects families to the wonders of their own communities and inspires women to chase their dreams and crush their goals. 
Her most recent endeavor, 99 Walks, is on a mission to combat loneliness and improve fitness through the simple act of encouraging moms to walk together. Her mission? Nothing short of getting a million moms moving. Joyce received her Bachelors in Business Management from the University of Maryland and her Juris Doctor, Cum Laude, from St. John's University School of Law.  After law school, she spent more than a dozen years as a New York City lawyer where her practice focused on complex commercial litigation. Salonpas sat down with Joyce to learn more about her life:
Tell us about your background and how you came to create the walking app 99 Walks and Macaroni Kid.
I've always had an entrepreneurial spirit — a strong desire to build and create something that brings value to people. In fact, I started my first business while I was in law school, which proved not to be a great idea! However, shortly after my husband, Eric, and I got married in 1997, we quit our corporate jobs and launched our entrepreneurial journey. We were deeply engaged in our second business when I had an idea — which is fairly commonplace now, but at the time was pretty innovative — to send weekly emails to families telling them about everything happening for kids and families in their community. We beta-tested in the Hamptons, where we live, and the response was incredible. As a result, we sold our company so we could focus and launched Macaroni Kid in 2008.
Through Macaroni Kid, I had the honor to work closely with hundreds of women and over and over again. I saw similar patterns emerge: women are lonely and women are facing a health and wellness crisis. For me, walking has always been a critical part of my personal wellness practice. It is the way I keep my body moving but, perhaps more importantly, it is the way I take time for myself, connect with my friends, think through problems and more. One day, Eric and I were talking about what was next for us — on a walk, naturally — and we realized that if we could introduce more women to the power of walking, we could do a lot of good and, hopefully, build a successful business.
And 99 Walks was born.
What are the benefits of walking for exercise and what are the benefits of walking for socialization?
Walking for exercise has countless benefits for your mind, your mood, and your body. For your body, a regular walking practice has been shown to reduce your risk of high blood pressure, high cholesterol, heart disease, diabetes, dementia, and several types of cancer. In fact, walking is so powerful that one study has shown that a daily walking practice can add up to seven years to your life. For your mood, a regular walking practice has been shown to improve your mood, reduce stress, reduce cortisol response, and lower your risk of depression. And lastly, for your mind, walking has been shown to improve memory, increase focus, and fuel creativity. In fact, walking is so powerful that one study has shown that a walk can boost creativity by up to 60%. Walking for socialization not only gives you a healthy way to stay active together but walking shoulder-to-shoulder promotes an easy flow of conversation. Whether with friends or family—yes, even your teenage son—walking and talking with a loved one can promote an openness in communication and enable you to connect on a deeper level. Not only that, but there is a sense of accomplishment when you complete a walk together, one that can encourage you to seek out more ways to stay healthy together.
Why did you decide to focus primarily on women in your business?
Truthfully, it wasn't a conscious decision. When we founded Macaroni Kid more than a decade ago, our kids were small and we were focused on helping moms build sustainable businesses while simultaneously providing their communities with a valuable, reliable resource. Throughout that experience, we developed a deep understanding of the challenges that moms — and really all women — were confronting. And that led us to the creation of 99 Walks to help address all three of them: health, wellness, and loneliness.
Tell us about a typical day in your life; from when you arise to when you retire.
My day starts early, typically by 5:00 a.m. I've always been an early bird. I love the quiet of my home when everyone is asleep, and I've discovered that my brain works best first thing in the morning….well, after a cup of coffee. After I make coffee and empty the dishwasher, I launch into my morning routine which includes a big glass of water, a quick stretch, a moment of gratitude and an eight-minute meditation. Then most days, I sit down to write for an hour — I'm working on a new book about the transformational power of an intentional walking practice. At 8:00 sharp, I kick off the day with the 99 Walks community by "going live" in our Facebook Group. It is something I started at the beginning of quarantine and have maintained every day since. The community absolutely loves it, but I have discovered that it does at least as much for me as it does for them. Then it is off to the office and a full day of calls and (virtual) meetings. Late afternoon will find me either working out in our home gym (my husband is a competitive CrossFit athlete, so we have a pretty awesome home gym), or walking my favorite trails with my dog. Then it is a last check of my email and social media, reviewing my calendar and task list for the next day and an early dinner. I'm usually in bed before 8:00 and Eric and I watch a little TV — we are currently working our way through all 15 seasons of Supernatural — and I'm typically asleep by 9:00.
Rinse and repeat, I'm a creature of habit.