Karen Curtiss, is the founder and Executive Director of The Care Partner Project, a not-for-profit that helps people learn how to advocate for themselves and their families.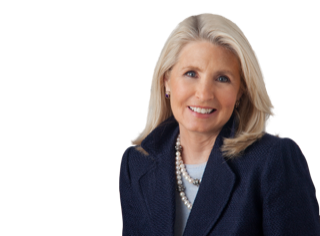 The Care Partner Project offers free checklists that help patients navigate hospital stays, surgeries, COVID care, and more. Curtiss recently launched a new initiative for her organization: helping to fund advocates' work with uninsured patients. Salonpas sat down with Karen Curtiss to learn more about her work:
What was your inspiration for creating The Care Partner Project?
When my dad received the rare gift of a lung transplant to cure a rare terminal disease, we followed conventional wisdom: when someone you love is in the hospital, make sure someone is with them.
With a tribe of 6 "kids," we coordinated our schedules to do just that – be bedside with our dad just about every day for the estimated 6 weeks of recovery post-transplant. Our mother was there every day as well, from dawn until well past dusk and we were a bit worried about her so doubly motivated – especially as the weeks dragged on and took a toll on her own health. She dropped from a size 6 to size 2, mainly from anxiety as she witnessed my father succumb to one medical complication after the other. First a fall, then ventilator pneumonia, then MRSA, then C.diff, then deep vein thrombosis, then a blood clot, then another round of MRSA and C.diff, stretching on for 7 months before he died, never having left the hospital.
All the while, we as dad's advocates – who thought we would be able to "figure it out as we went along" – scrambled in vain to learn the language of care and its protocols. But we were always too late, always after another terrible complication that jeopardized his life. And besides, as I learned later when I gathered his doctors to plead with them for some guidance about how we, as the family could possibly help in Dad's care, none were forthcoming about the hazards they knew every patient faced during a hospital stay… the very hazards dad suffered. (Hospitals are good at treating, not preventing.)
The truth of the matter is: while most of us are quick to answer the call of loved ones who need us bedside, we are absolutely clueless about our role. There is no training whatsoever for supporting our loved ones' care in a meaningful way… no classes, no Brownie badges. Knowing what I know now, I could have prevented the infections that claimed dad's life while still watching the Golf Channel with him (which he so enjoyed!) Preventing hospital infections is not rocket science: it's just labor-intensive attention to little details that create a clean, safe "Superbug-free" environment for patients. And the same holds true for preventing falls, pneumonia, DVT, blood clots, bed sores and more. The prevention strategies are different, what they have in common is attention to simple, small details that add up to safer, better care.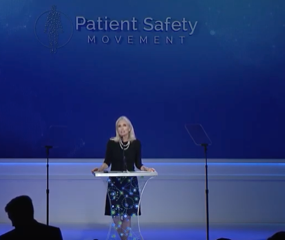 Why is a checklist so crucial for people to have before hospitalization?
Checklists are a tool for picking up information pretty quickly. They're to the point and easily scanned – something that's important when dealing with a medical challenge that absorbs so much time, attention and emotion. They are an easy reference to keep at fingertips as details are forgotten (completely normal).
The Care Partner Project checklists are written at the 6th grade reading level and below, not because we think people lack reading skills, but because the simpler prose is easiest to absorb when dealing with tough situations.
We really encourage people to read them for any planned hospital stay because they include info about bringing little supplies that make a big difference. For example, to prevent infection, cleaning supplies are a must because you can't count on hospitals to provide them.
Bringing lots of hand sanitizers, too, is just as important as bringing a comfort item for your loved one. One kills Superbugs and the other props up the patient's immune system a bit. (BTW, bring sweaters, sweats and don't be afraid to ask for warm blankets: hospitals tend to be chilly!)
Tell us about your organization's mission to help uninsured people. How are you doing this?
Last November, I heard about a woman in Florida, a double hand amputee who was not able to get prosthetic hands due to quirks in the Medicaid system there, so she was referred to an advocate, Anne, to help her "adjust" to life without hands. Instead, Anne set to work, absolutely determined to get hands for the woman – and was successful! She knew how to work the system, but it took persistence and grit.
Health care should not be so hard, complicated or unfair… but too often, it is. Especially for those who have no one and no resources.
Our Care Partner Fund is set up to help pay for services from advocates like Anne (who heavily discount their fees for our program). Just a few of the recent patients we've been honored to serve:
A homeless woman in Atlanta, just discharged from a hospital stay with a terminal cancer diagnosis. An advocate found homey hospice care for her.
A young man, working odd jobs on a construction site in Austin, suffered a terrible accident that put him in the hospital on a ventilator. His family was afraid to see him because they are in the US without papers and know very little English. An advocate (an RN) watched his care like a hawk, intent on making sure he was weaned as soon as possible from the ventilator so he could be released to home to recover. She succeeded in cutting a week off his hospital stay.
A transgender college student in Chicago, abandoned by her parents and left to live alone during Covid, was losing her eyesight. A patient advocate succeeded in finding sight-saving treatment for her!
After suffering a stroke, an older gentleman in Detroit needed rehab in a long-term care facility. He had been a truck driver his entire career and had no permanent address, so his disability checks never found him. An advocate secured a spot for him a great rehab facility covered by Medicaid, then sorted out his disability payments and made sure they get to him. He is on his way to recovering from his stroke with peace of mind that he has some income for future expenses.
What are your five-year goals for The Care Partner Project?
To do everything we are doing now – on steroids! And have the funding to support it. My personal mantra is "We go further, faster with friends" so opening up distribution friends for our content and services is a priority. We are a multi-national nation: translations into other languages are a goal. We welcome partnerships with any organizations that serve communities that speak languages other than English.
Tell us about a typical day in your life; from when you arise to when you retire.
Every day is so different! Of course, like everyone else, I try really hard to stay on top of emails and respond ASAP but I make it a point to pick up the phone and just call people. It's important to me to constantly take the pulse of health care and the best people I know as great resources are the professional advocates in our Speaker Network. They take our Care Partner Project presentations to audiences at their local libraries, senior centers, Rotary Clubs – you name it, they've been there! – sharing our great tips and insider info for safely navigating health care.
Since these advocates have private practices, they have the inside track on health care system challenges The Care Partner Project should be addressing. Last summer, during Covid, we hopped on a few ZOOM calls together to compare notes on how they were getting their clients in to see doctors and how to support solo patients needing hospital care. The result was a new checklist with really great tips that can be used anytime a loved one needs care and you just can't be there because of work or distance — or any other reason.
My days just fly by – lots of conversations, research, writing and website updates – often punctuated by a lunchtime walk down to Lake Michigan with a friend (more chatting!) As we return to normal, I hope to get back on the speaker circuit and travel again!
Two days a week, I work out with a trainer on weight machines after work – the super slow method is a killer, but it works! Now that Covid is more under control, I've been having fun reconnecting with friends for outdoor dinners, too!
To wind down at night, I make myself a cup of ginger lemon tea and read or watch TV: British mysteries are my fave in both genres, though I really love a quirky Australian show on Acorn TV called Ms. Fisher's Modern Murder Mysteries. (I think my elementary school addiction to Nancy Drew lingers.) In bed by 10pm – and always excited to greet a new day at 6am!