As an important step in becoming a doctor, medical students must take the Hippocratic Oath. And one of the promises within that oath is "first, do no harm" (or "primum non nocere," the Latin translation from the original Greek.) When treating patients with pain, do no harm means that doctors should explore the safest possible pain relief options first. "Topical first should be the mantra of doctors when evaluating a patient's pain," said Dr. Bob Arnot, internal medicine, who is the author of twelve books on nutrition and health, and previously Chief Medical Correspondent for NBC and CBS News.
So what is topical? Topical pain killers, or analgesics, are sprayed on or rubbed into the skin over painful muscles or joints. Although are all designed to relieve pain, different products use different ingredients. Common ingredients include menthol, camphor, capsaicin (found in chili peppers), and methyl salicylate. In addition to patches, you can find lots of other topical pain treatments, including creams, gels, foams, and roll-ons.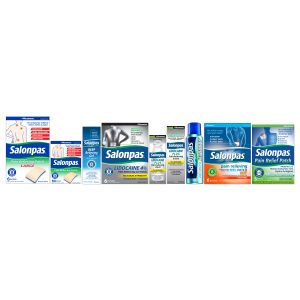 A Journal of Pain Management study has good news for people with mild to moderate chronic pain. "After three and six months, the patients in the study using topical analgesic – applied directly to the surface of the affected area – improved safety outcomes and reduced reliance on opioid and NSAIDs," said Dr. Jeffrey Gudin, author of the study and director of pain and palliative care at Englewood Hospital and Medical Center, New Jersey. He is board certified in pain medicine, anesthesiology, addiction medicine, and hospice/palliative medicine, and is a medical acupuncturist.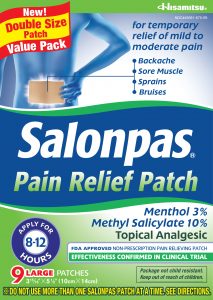 "Clinical trials demonstrated that the Salonpas® Pain Relief Patch works up to 12 hours on mild to tougher moderate pain," said award-winning journalist Dr. Bob Arnot, M.D. "As a 70-year old active athlete, I suffer from pain as a result of training and competing. I was a huge fan of the previous Salonpas Pain Relief Patch and it is great that it is now available as a double-size, larger patch which targets my back pain."
"I compete in punishing races including the 32-mile world championships for paddle boarding," said Dr. Arnot. "For this race, we cross the most dangerous ocean passage in the world with ocean swells as high as 20-feet and winds over 30-miles an hour. I learned long ago that oral pain relievers can carry a high price in terms of side effects, even acetaminophen. I competed three years ago having taken 5 ibuprofens and suffered debilitating gastritis and reflux the whole way. Since then I have used topical pain relief which has little risk of systemic problems and starts working right away."
Always follow label instructions because topicals come with some minor risks. For example, using topicals too often or leaving them on too long can make your skin prone to allergic reactions. If the patch you're wearing begins to burn or itch, or your skin turns red, stop using the product and check with your doctor. That applies even if you've used the same product without a problem in the past.