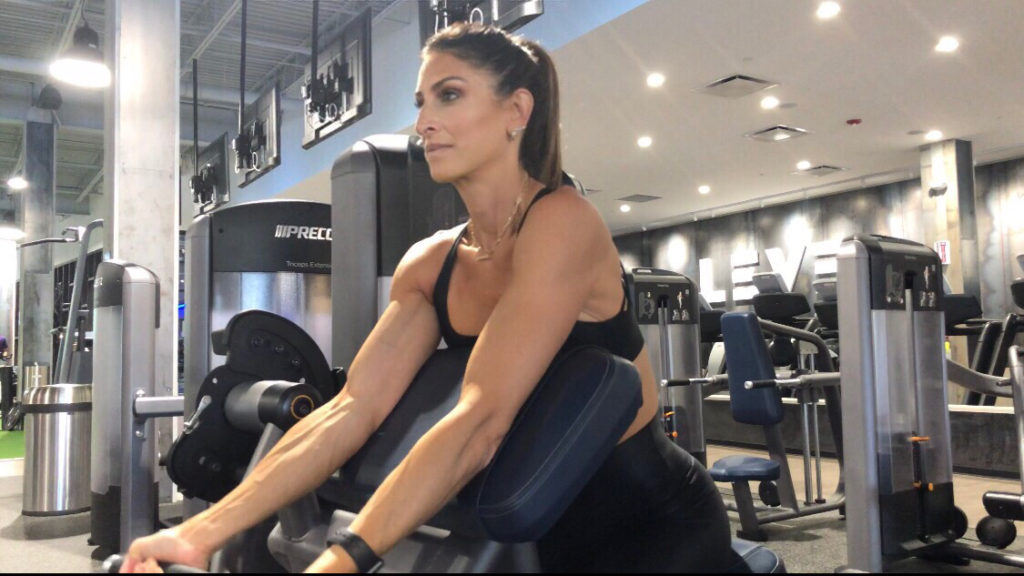 Sloane Davis, a Certified Nutritionist and Personal Trainer, has helped thousands of men and women, around the world get in top shape both mentally and physically. Sloane has her undergraduate degree in Bachelor of Arts from Syracuse University and became accredited through ISSA with her degree in Sports Nutrition and Personal Training. She works online with clients around the US and globally and offers healthy recipes options on her blog, Pancakes and Pushups. She balances all of this with motherhood! Salonpas sat down with her to learn more about her role as a Wellness Warrior:
During COVID-19, a lot of people are having to work out at home.  What are some of your top in-home work-out suggestions?
You don't need to have dumbbells to get a good workout in. Get creative. Grab soup cans, milk jugs, laundry detergent, and use as weight. Body weight exercises are also good too, especially when working abs, legs and cardio.
A chair or a couch is also a great place to get a good workout in.  Step ups, tricep dips, split squats, incline push ups can all be done from a chair or couch.

Stress eating is more of a problem for people now given their newfound isolation.  What recommendations do you have for reducing that compulsion in people?
Most of it comes from boredom. Before giving in to the cravings, go for a walk, FaceTime a friend, have a cup of tea or coffee, play a game.  That will extend the time and sometimes take away the urge to eat. 
Tell us about your philosophy for good nutrition.  What does it include/exclude?
My philosophy comes from science and that everything in moderation is the way to go. The more you "can't" have something the more we humans tend to want it, which creates an unhealthy relationship with food and leads to bingeing.
I love the 80/20 rule.  80% of your food should come from nutritious sources like fruits, vegetables and whole grains, but also allowing yourself room for treats and any foods you love. Life is too short and food plays a major role in our social life. 

How do you balance your work as a certified nutritionist and trainer with motherhood?  Are there any compromises?
My kids are grown now and just recently started working out with me and my app.  It makes me so proud to see that I have instilled good habits by leading by example. I am and will always be first a mother, but my kids know how important my work is to me and helping others.  There are no compromises whatsoever.  Nutrition and exercise can be shared with your children in so many ways. 

Tell us about a typical day for you; from when you walk up to when you retire.
OMG! Work, work, work.  I wake up, have my coffee and check my emails. I respond to my one-on-one clients. I still train a few clients each day which lasts anywhere form 2-3 hours.  Then I sit down and eat breakfast. 
I then create an Instagram and Facebook post which can take up to 45 minutes.  I then workout myself, eat lunch and then it's back to work – meaning filming videos, answering questions, creating Instagram stories, responding to comments and so on.  If it's nice out I try to walk my dogs for 15-20 minutes.  My work only ends when I decide to turn it off.  
I always watch World News and try to indulge in an hour or so of TV at night.