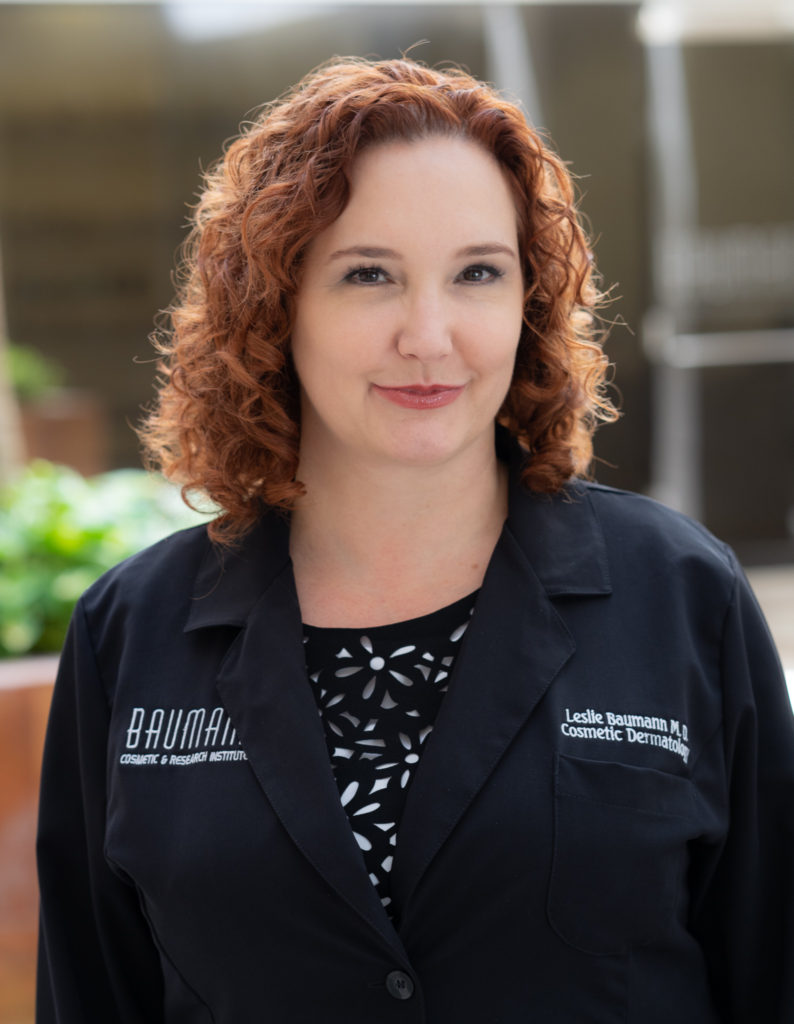 Dr. Leslie Baumann, dermatologist, researcher and author of several books on cosmeceuticals and skincare has specially trained over 200 medical providers (most are dermatologists) to use a scientific method to choose the best products from over 45 brands and match them to your Baumann Skin Type. She has written 3 bestselling books on skincare and cosmetic dermatology and performed the research trials that led to FDA approval of Botox, Juvéderm, Restylane Lyft and most of the cosmetic procedures on the market today. She has trained hundreds of doctors around the world on skincare and has a poplar blog and social media following. We asked her for her advice on what to do about your skin while you are practicing social isolation.
During COVID-19 as people are self-isolating, what type of skin care routine do you recommend that people do?
This is a great time to do things to your skin that you normally do not remember to do or that require time that you usually do not have or to use products that cause downtime. We have been doing telemedicine consults through my medical practice (Baumann Cosmetic and Research Institute) and are helping doctors that use my Skin Type Solutions strengthen their telemedicine capabilities) This is some of the advice we have been giving:If you have rough scaly lesions in sun exposed areas that do not heal, these may be precancerous. This is the time to make a telemedicine appointment with your dermatologist. Ask about 5- fluorouracil (5-FU) or imiquimod to treat these lesions and prevent them from turning into skin cancer. These medications cause significant redness and skin irritation, so now is a great time to hide out and get these treated. You need to schedule a telemedicine visit with your dermatologist to get these prescription medications.
Retinoids such as tretinoin and tazarotene are very strong antiaging topical products. They are so effective that they have been FDA approved to treat wrinkles. When you begin these, redness and peeling usually occurs the first 2 weeks. It can take months to see results so get started as soon as you can. You can discuss these prescription medications and other nonprescription antiaging creams with your dermatologist
Many of our patients have asks about what skincare masks and other intensive treatment to use on the skin during this time. It really depends upon your Baumann Skin Type®. To find a doctor to diagnose your Baumann Skin Type and get a skincare regimen right for your skin visit us here or DM us on Instagram @SkinTypeSolutions
Make sure you wear a SPF of 30 or higher if you plan on a walk or biking outside for over 15 minutes. Wear SPF, your mask and a hat to stay protected from the sun because every exposure causes damage to the skin's DNA.
How significant is stress in affecting our skin? Do you have recommendations for 'destressing'?
I have written many blogs on stress that can be found here. Stress raises your cortisol levels which raises your blood sugar levels. This increases aging, inflammation, rosacea, eczema and psoriasis. It also damages your skin barrier leading to dryness and inflammation. Using a moisturizer such as Zerafite Body cream with MLE technology has been shown to decrease inflammatory factors in the blood that can lead to inflammation associated diseases such as diabetes and heart disease.
The best destress techniques are: exercise for 30 minutes a day even if it is just walking, get at least 7 hours of sleep, eat 3 healthy meals a day with as many fruits and vegetables as you can, do mindfulness activities such as meditation, yoga and deep breathing and try and do something for someone else. Do a gratitude list. Studies show that smiling can trigger your brain to feel happier – so smile!
How can people distinguish facts from hype when evaluating skincare products to use?
There is so much hype and pseudoscience, that it is difficult for people to find someone knowledgeable that they can trust that truly cares more about improving their skin health than making money. The best option is to find a dermatologist or medical provider specially trained on skincare regimen design who is independent of any skincare brands. You really don't want someone who has their own skincare line or who works for a skincare brand to give you skincare advice.
Please describe a typical day in your life; from when you wake up to when you retire.
Each day is a bit different but in general, I wake up a 5 am and work on writing my blogs for LeslieBaumannMD.com and my newspaper column for the Miami Herald or one of my books. At 7 am I go to the gym and either do a dance class, weights, yoga or pilates. Then I shower at my office and leave my curly hair wet to air dry. (Trying to be as efficient as possible and it is less frizzy in the Miami humidity that way.). From 9 to noon I see dermatology patients. At noon I have a lunch meeting with either a skincare brand who wants to show me new scientific data on their products or one of the companies that I do research for. Then I see dermatology or research patients from 1-5 pm. Some days I teach medical providers about skincare and cosmeceutical science either live or online. I usually come home around 6 pm and cook dinner for my family. I have a husband and two sons. I LOVE to cook. It relaxes me. As you can see I schedule every minute of my day. In fact- I sometimes schedule "spontaneous time" on my calendar. ?