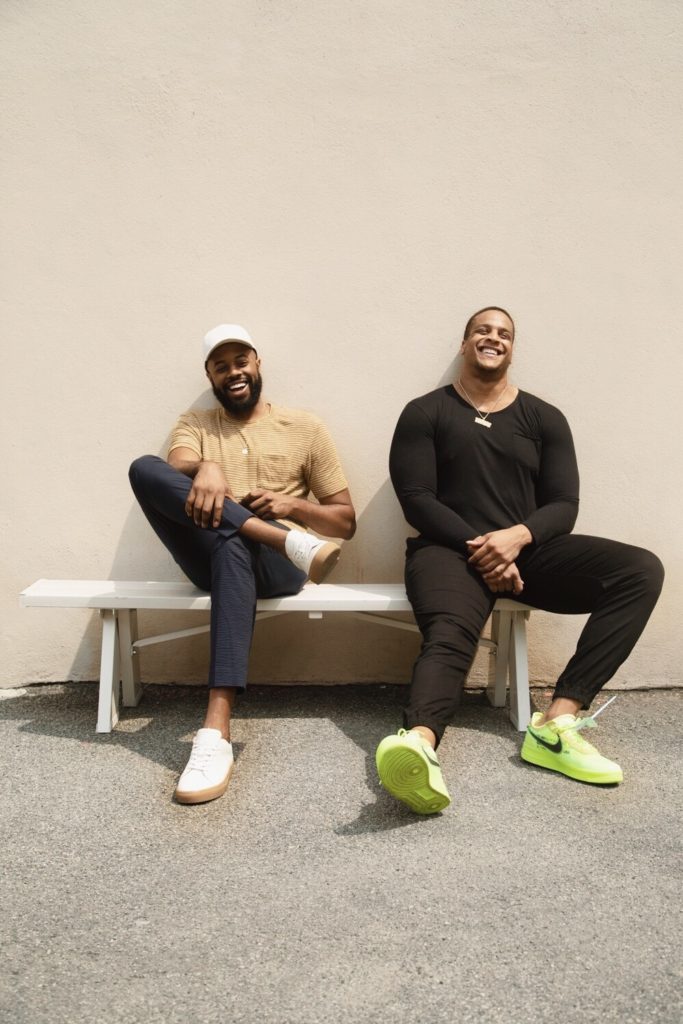 1AND1 LIFE is a mental health, lifestyle, and fitness platform ran by two very successful African American Men made to educate their readers on essential topics of race, mental health, fitness, and wellness.
Salonpas sat down with the co-founders Corey Lewis and Thomas Drew who created this platform because they believe that while fitness is no longer just for pro-athletes and bodybuilders, it's still not 100% inclusive and lacks Black and People of Color representation.
What was your catalyst for creating 1AND1LIFE.com?
1AND1 Life is a mental health and performance company that curates and customizes content, tools, and products to inform, guide, and empower the 1AND1 Life community. This is done by ensuring that our customers and readers feel connected and comfortable with ease and truth.
Additionally, a large amount of 1AND1 LIFE original content is powered by the discussion of what mental health means to the Black Community. Black communities' mental health isn't usually at the forefront of the conversation, even though Black adults are 20% more likely to experience serious mental health issues and complications. As Black men, we have experienced first hand the lack of resources and how that previously hindered their ability to deal with mental health struggles appropriately. Additionally, we saw the need to address other areas of wellness that needed simplifying. This was the driving thought that created 1AND1 Life's "7 Dimensions of Wellness," which refers to the way that mental, physical, spiritual, financial, and environmental wellness content is created and broken down inside the 1AND1 Life ecosystem.
Corey, Thomas, what were you doing before creating this site? Tell us about your background.
Corey Lewis: Prior to founding 1AND1 LIFE with Thomas, I played football in the Big Ten Conference at the University of Illinois, where I earned a B.A in Business Communications and M.S in Business Communication and Sports Administration. After college, I played a short stint as a professional football player and persevered through countless ACL and knee surgeries. Those trials and tribulations ultimately strengthened me and have played a massive role in 1AND1 LIFE. Now, I am a certified personal trainer and incredibly passionate about health, wellness, and fitness. There's also a side of me that's deeply committed to building a community. Alongside Thomas, I have had an opportunity to engage people and push them to reach their wellness goals through 1AND1 LIFE, no matter how long it takes.
Thomas Drew: After finishing up my masters in New York City at Columbia University in 2017, I started and ran a social media and influencer marketing division within a rapidly growing New York-based creative agency, driving results for clients like Samsung/Verizon, The U.S. Army, The St. James, and more. While at this agency, my marketing commentary and thoughts were featured in Forbes, Digiday, Glossy, Medialink, and more. My "aha!" career moment occurred when I led and executed an Influencer Marketing strategy for the Samsung Gear 360 Campaign. Along with other programmatic and digital marketing efforts, the Samsung Gear 360 sold out within 48 hours of release. In 2018, I left the agency to focus on 1AND1 Life with Corey and apply the learnings from my stint in corporate marketing, branding, and strategy to 1AND1 Life.
What can we learn from 1AND1 LIFE's exploration of race and mental health in black communities?
Corey Lewis: I hope through the exploration of race and mental health through 1AND1 LIFE, we can educate people about mental health and reassure them that it's okay to be vulnerable. Unfortunately, the African American community is a critical one and has forced many of us to suffer in silence. Due to decades of hiding our sadness, many African American communities don't actually know that what they're dealing with is depression or other mental health illnesses. People also don't understand the resources available for them. I hope that through our platform, we can destigmatize mental health and make it cool to discuss amongst each other, not just in the African American community but in all communities. Our goal is to educate people on what mental health is, what resources are available, and how to utilize them.
Thomas Drew: The hope is that our conversations, original content, and coverage on our platform force more conversations to be had. If one person, but especially a person of color, is able to read our content or listen to our podcast and feel empowered to take steps in the right direction, then I feel we've done our job. The things that we talk about and discuss have been taboo in the black community for so long, but especially for men. Men aren't expected or encouraged to open up, be vulnerable and share, especially when it comes to mental health issues and struggles. The time to explore is now, and I think it's amazing that it's able to come from two young black men like Corey and I that are business partners. Other black men need to see more of this to understand that their voice is needed and wanted.
What benefits are your subscribers/readers enjoying from 1AND1 LIFE? What future plans do you have for the initiative?
Corey Lewis: At the moment, our readers are enjoying the variety 1AND1 LIFE has to offer. There is no one-size-fits-all when it comes to mental health, fitness, and wellness. That's why at 1AND1 LIFE, we focus on the seven dimensions of wellness (spiritual, social, emotional, intellectual, environmental, physical, and occupational wellness), that way; there's something for everyone. Our goal is to enhance perspective as it pertains to wellness and continue to write relevant and informational content that relates to a wide range of readers. Through our content, we hope to help people become the best versions of themselves.
Thomas Drew: Corey touched on a lot there, but I'll just add that our subscribers, readers, and customers are able to enjoy our multiple new experiences on and off-platform. Our email newsletter has undergone some drastic new design and content changes that are focused on providing value to specific segments of our email list. For example, we send a certain email roundup to those on our list that have identified that they belong in the fitness-focused group. Our website has some awesome new searchability features that make finding what you need easier once you get on 1and1life.com. In the search bar, you can type whatever you're looking for from our team, e.g., "mental health tips," "tips for moms," "how to find new friends," "workouts and recipes," protein," etc. and our directory will automatically show you the articles, product reviews, and products that match your search. Lastly, we're releasing our flagship digital product titled 1AND1 YOU that's customized fitness programming and workouts, customized nutrition, and mindset coaching all in one mobile-friendly app for a very affordable monthly subscription. We have some extremely exciting brand partnerships as well that we're working on for 2021-2022 that we can't mention now, but stay tuned—lots of exciting stuff in the pipeline.
Tell us about a typical day in your life, from when you arise to when you retire.
Corey Lewis: I typically wake up any time between 5:30 and 7:30 AM to go through a power hour and go over my "MITS," which are the "most important tasks" I have for the day. Every day between the times I mentioned, I get a workout in. When I move my body in the morning, I realized my productivity throughout the day is so much higher, and I'm in such a positive mood. I also take the time in the morning to breathe, read educational information and read my spiritual word. I then dive into work. Typically, at 1AND1 LIFE, we have team calls that happen every day. Whether we're checking in individually or as an entire team, we try our best to stay connected, especially during these times. After 1AND1 LIFE calls, I work with the fitness clients that I train virtually. During our virtual workout sessions, we set weekly and monthly fitness goals, we discuss better food choices, and we explore mental health and ways we can create a positive mindset.
Throughout the day, I'm also writing content for the 1AND1 LIFE site, researching trends and different topics to discuss, and enhancing our blog in any way I can. Additionally, I'm doing the normal day-to-day tasks of a CEO and entrepreneur, such as ensuring all deliverables are in on time, checking in with my team, and taking calls.
In terms of what I plan to accomplish between now and retirement, I plan to continue to build out 1AND1 LIFE to be an extremely impactful company in the wellness and mental health industry. I believe everything starts with your mindset. If we can help people adjust their mindset, find their wellness, and help them become better versions of themselves, then we did our job. I'd also love to continue to do more philanthropic work and create systems that can better many social, economic, and environmental issues we're currently enduring through hands-on work. A few things I'm extremely passionate about are racial equality, homelessness, and single mothers. I hope to create a foundation that makes a true transparent difference and attacks these issues head-on, not just financially but through doing hands-on work.
I also hope to start a family one day, give back to my community, and uplift other African American entrepreneurs trying to start their own businesses but need a bit of guidance.
Thomas Drew: On a typical day, I try to make sure I get at least 6-8 hours of sleep before I wake. I usually am up anywhere between 6-7 AM, and I love to start my day in the gym for at least an hour and a half. The gym is my sanctuary and the place where I relieve tons of stress. After I'm done with the gym, I dedicate about an hour and a half to my "me-time" routine. After my shower, I turn on some music to get my mind in the right mood. I love music more than anything, so I have playlists for every mood of the day that I create using Spotify. I then make my bed, which is a hugely important task to start the day. I've actually tracked this, and it turns out that the days that I don't make my bed in the morning, I'm not as productive and don't get as much done. After I make my bed, I meditate for 5-10 minutes and then follow that up by writing down what I'm grateful for in my gratitude journal. I then do some goal visualization exercises and try to get in at least 30 minutes of reading from the book that I'm currently reading. My calls for the day usually start at 9 AM, and those last for a few hours. After that, I'm usually strategizing, creating content, researching trends, and communicating with my team and Corey. I take breaks to eat throughout the day and make sure I'm making a dent on my gallon of water for the day. Sometimes I take a work break to walk around my neighborhood in New York a little bit to get some fresh air, and I continue working usually until I call it quits around 9 or 10 PM. We're working on tons of projects right now across the board, so days are long. Sometimes I decide to stop working a little early and devote an hour to personal development via reading, listening to a podcast, etc. I then set my schedule for the next day via a technique that I love called "time-blocking." I also designate my OBT for the day, which stands for "One Big Thing." It's the one thing that I plan on getting done the next day that's super important that will provide momentum for the rest of the day. After this, I'm usually in bed by 11:30, midnight at the latest, and prepare to get up and grind the following day.