Please find the following article originally published by EMaxHealth.
By Timothy Boyer Ph.D. May 20 2020 – 5:39pm
We would like to provide this update and information service about a new over-the-counter topical pain relief patch and topical gel approved by the FDA and recommended by chief medical correspondent Dr. Bob Arnot.

Past Pain Management Problems Begat More Pain
One of the ironies of modern medicine is that many drugs intended to provide pain relief, actually wind up causing even more pain…and sometimes even cause death. The overuse and abuse of NSAIDs and oral pain relievers containing opioids, are the primary causes of serious adverse events such as life-threatening cardiovascular and gastrointestinal diseases.
In fact, the Center for Disease Control (CDC) reports that since 2000, over 200,000 people in the United States have died from an overdose of prescription opioids. As a result of this, the CDC issued guidance in 2016 to physicians managing chronic pain to do so for their patients without resorting to opioids as their first line of treatment. And that is not an easy prescription to fill.
According to the CDC, 23% of all adults—over 54 million people—have arthritis, with nearly half experiencing physical limitations in their daily activities due to their arthritis. Furthermore, more than 1 in 4 adults with arthritis report experiencing severe joint pain. So, what is a doctor and his or her patient to do?
The CDC recommends several proven approaches to reduce arthritis pain such as:
• Joining a self-management education program that teaches the skills and confidence to live well with arthritis every day.
• Be active. Physical activity—such as walking, bicycling, and swimming—decreases arthritis pain and improves function, mood, and quality of life. Adults with arthritis should move more and sit less throughout the day. Getting at least 150 minutes of moderate-intensity physical activity each week is recommended.
• Maintain a healthy weight. People can reduce their risk of knee osteoarthritis by controlling their weight.
• Protect your joints. People can help prevent osteoarthritis by avoiding activities that are more likely to cause joint injuries.
• Talk with a doctor. Recommendations from health care providers can motivate people to be physically active and join a self-management education program. People with inflammatory arthritis, such as rheumatoid arthritis, have a better quality of life if they are diagnosed early, receive treatment, and learn how to manage their condition.
But where do doctors and their patients go when the CDC's proven non-medical approaches just aren't enough?
For starters, both parties can begin managing pain by listening to what the experts have to say and the studies that support their medical opinions. One expert is former CBS and NBC News health correspondent Dr. Bob Arnot, who over the course of his career as a physician, chief medical correspondent and war correspondent, has been exposed to a wide variety of pain management drugs and approaches.
One thing I've seen is that the United States is much more reliant on taking pills for pain than the rest of the world, where topical analgesics, physical therapy and other approaches are more widely used," says Dr. Bob Arnot. "The reliance on pills, many of which come with side effects that can be severe when used in greater quantities than labeled or for longer than labeled has led me to conclude that for muscle, back and joint pain it's best to start with topicals first."
Here's an informative video where Dr. Arnot discusses the recommendation of "topicals first" for pain treatment and relief.
New Topical OTC Pain Relief Options: the Salonpas® Patch and the Voltaren Gel
The significance of Dr. Arnot's testimony to the problem and his answer, is that government medical agencies including the CDC, and American College of Rheumatologists are embracing topical medicines as the first line treatment in light of their strong safety profile when used in a patch and gel mediated formulation.
Salonpas® Pain Relief Patch
A new-comer to topical analgesics for pain management is the Salonpas® Pain Relief Patch which is the first OTC topical analgesic ever approved by the FDA for the temporary relief of mild to moderate pain such as experienced with bruises, sore muscles, sprains and backache.
Why The New Salonpas Pain Relief Patch LARGE Is Bigger and Better
Recognition for its success as a safe, fast-acting and effective topical pain relief agent is evidenced by acceptance from the World Institute of Pain (WIP)—a preeminent network of medical and scientific professionals focused on educating the medical community about evidence-based, state-of-the-art interventional pain management practices. At the WIP annual meeting, researchers will present the maker's pain management study titled "Relieving Pain: Evaluating Patient Quality of Life Improvement—Perceptions, Experience and Feedback After Use of a Topical Pain Relief Patch."
The study examined 150 adult patients with arthritis, neurological, or musculoskeletal pain who received the Salonpas® Pain Relieving Patch for 14 days, the results of which will be presented at the WIP Annual Meeting scheduled for August 26-29 in Rome, Italy.
Benefits of the Salonpas Pain Relief Patch
• Speed of onset—It begins to work in one hour.
• Time to efficacy—The patch demonstrated clinically meaningful pain relief in the first day, and improved range of motion.
• Salonpas is easy to apply and the dose is pre-measured in the patch.
• Salonpas works up to 12 hours.
• Salonpas can be used for multiple pains.
Voltaren Arthritis Pain Gel

For mild to moderate arthritic pain of the joints, a second OTC topical analgesic called "Voltaren Arthritis Pain Gel" in a self-application gel formulation is recommended for pain relief.
It is important to users of the products to note that the Salonpas® Pain Relief Patch and Voltaren Arthritis Pain Gel are pain-relief solutions for specific sources of pain and regions of the body. Voltaren Arthritis Gel can only be applied on joints and is not labeled for any other body area such as back, hip or shoulders. It has not been shown to work for strains, sprains, bruises or sports injuries. Be sure to read their product labeling for proper use and application towards pain relief before using.
"As a physician, I recommend topicals first and I have shared some great options to safely and effectively relieve your pain…it's a safer approach consistent with the oath we physicians take of 'First, do no harm,'" says Dr. Bob Arnot.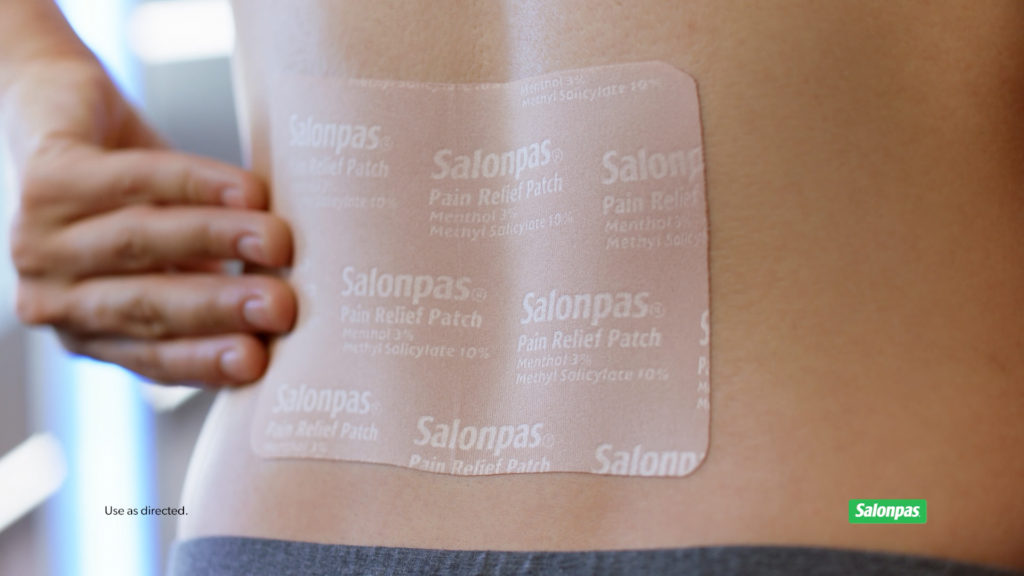 Timothy Boyer has a Ph.D. in Molecular and Cellular Biology from the University of Arizona. For 20+ years he has been employed as a freelance health and science writer. Today, with a background in farming and an avid home gardener, Timothy continues writing about science with a focus on the connection between plant biology and gardening for healthy living. For continual updates about plants and health, you can also follow Timothy on Twitter at TimBoyerWrites.