Kim Minert is a diabetic who became a diabetes coach with Derail Diabetes who delivers keynotes and works with private clients who need guidance from someone who is in the trenches. Salonpas sat down with Kim to learn more about how she helps others thrive with diabetes:
How did this journey begin?
As a young woman, I was always an entrepreneur. I began with Cosmetology School at the age of 17, and never looked back, owning and operating salons in Montana, Washington, and Arizona. Caring for people has been the lifeblood of my business, and when I was diagnosed with diabetes it was natural for me to try and help.
I took myself "back to school" and became a certified coach and achieved a behavioral training certificate.I wrote my book, DeRail Diabetes, and followed with a cookbook, always looking for practical, tangible solutions. Just like teaching a client to blow dry her own hair, I give hands-on guidance to people at risk or with diabetes.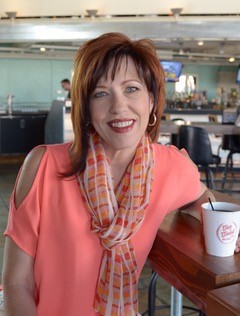 What progress has been made for diabetics?
Moving forward I have good news. There is hope for diabetics, we don't have to be a victim of this disease and that there is much we can do to keep ourselves healthy enough to play with our grandchildren and beyond!
When were you diagnosed with diabetes, and was it Type 1 or 2?
I was diagnosed with diabetes in 2005, shockingly it is Type 1. Thankfully the doctor in ER knew what I needed. My husband was not so lucky and was misdiagnosed as a type 2 even though all the signs pointed to type 1. Sadly that still happens in this day and age.
When did you start your company DeRail Diabetes and what was the inspiration for its inception?
I started my company after working with a new doctor who herself has diabetes. I realized that there is a lot we can do to manage our disease, many things people don't know about and that our doctor can't do the daily maintenance for us!
Many people believe that you only get Type 2 diabetes if you have an unhealthy diet. Is that true? Can you be in shape, exercising and eating well, and still get diagnosed with Type 2?
It is possible to get Type 2 diabetes if the genetic code is strong enough even if you maintain a healthy lifestyle. However, a healthy diet, regular exercise, and weight loss can prevent the onset, delay it, or at the very worst keep your medications to a minimum and prevent or minimize complications.
What type of people are you helping? Are they both Type 1 & Type 2? Are there different strategies for either?
I have worked with both T1d and Type 2. While they are different diseases, many parts of self-care are similar. Both benefit from keeping blood sugar as close to normal as possible.
Please share some success stories with Derail Diabetes clients.
To again address the two different types of diabetes and the prevailing thought that adults don't get Type 1, I worked with a 53-year-old man whose doc told him he had a "very aggressive form of type 2 diabetes" even though he was extremely thin (a sign of type 1). He was being treated as a Type 2 and becoming gaunter by the day. His clothes were sliding off his body. He was afraid of the finger prick to test his blood sugar and had never done it. His wife, a retired nurse was ecstatic when he showed up at home (after our consultation) with a test kit and began to take his health into his own hands. We were able to find a new doctor that was open to the latest findings on diabetes and a food-style that he loves. We tweak things along the way, as a newly diagnosed diabetic just has no idea about hidden sugar and even which fruits are very sweet and can elevate your blood sugar.
One of my clients needs both of his knees replaced, but his A1c (average 3-month blood sugar) is too high for surgery. We are on the way to bringing that down, he has purchased his own kit to check his A1c, as well as testing his blood sugar more often.
Another needed to get his blood sugar down before he could have cancer surgery…it is amazing how important those numbers are when it comes to matters that affect our health, whether its eyes, kidneys, heart disease, and even cancer treatments.
Can people who are following the keto diet, benefit from your recipes and guidance?
Yes, I am well versed in the keto diet. It is becoming increasingly more popular, the number 1 googled weight loss method in 2019. All the recipes in my book, Conquer Diabetes for Less than $5.00 a Day are keto-friendly. I provide my clients with delicious options…none of us need to eat food we hate! Only food we love and like!
Please describe a typical day in your life, from when you wake up to when you retire.
A typical day for me starts with some caffeine (I'm not gonna lie) and a trip to the gym or home workout with bands. Of course, checking blood sugar and continuing to monitor it throughout the day. I always include some reading/research, I follow the media pertaining to diabetes to bring people the latest information – we're always learning.
If I'm hungry, eggs are a staple for breakfast plus a bit of bacon or sausage gives me the fuel to keep going all day! Note – I only eat when I'm hungry!
Then I see private clients and we work with all aspects of self-care, using the tools in my toolbox to inspire and motivate, plus very practical strategies and even where they can find certain food items to replace favorites they've given up in order to be healthy!
Lunch is usually pretty light, maybe a Ketologie Keto Shake or meat/cheese snacks.
At some point during the day, I've planned dinner, whether it's baking a Spaghetti Squash, taking meat out of the freezer, or prepping the vegetables, because my family is starting to prowl through the pantry at about 5:30, and I want to have healthy food on deck.