One month into the New Year, is pain keeping you from your New Year's exercise resolutions?  Salonpas interviewed leading physical therapists and doctors to learn how to reap the benefits of exercise while minimizing pain.  Determining the reason and source of pain requires a visit to the doctor as reasons vary ranging from arthritis to being on your feet all day. What activities do doctors and physical therapists recommend that can help pain sufferers ease in and hurt less?  When developing a wellness routine, it is important to understand the difference between pain and injury.
"In many cases, the goal is to decrease the inflammation initially before attempting an exercise program," says Dr. Charles Pelitera, Assistant Professor of Kinesiology at Canisius College and owner of Pelitera's Fitness Consultants.  "As the inflammation subsides, then the goal of an exercise program is to strengthen the muscles that surround that affected joint.  The exercises should be performed with light weights and include as much range of motion as possible without causing additional pain."
Can virtually every person, no matter how much pain they are suffering from, engage in physical exercise?   Dr. John Stavrakos, who specializes in physical medicine and is a rehab physician (physiatrist) at Texas Health Arlington Memorial Hospital, says that "practically every patient can benefit from therapy in some form but if pain is too severe, we may need to intercede in some manner first to get the pain to a manageable level before starting therapy."
"I have designed exercise programs for people with limited mobility," says Dr. Pelitera.  "I have developed work-outs for people missing limbs, wheel-chair bound and those who have had joint fusions. I have found that people who have the most debilitating affliction can be the most dedicated to their workouts as they look at the workout as a way to improve their quality of life."
Turning to OTC drugs to reduce pain is also an option.  "People should always consult their physician before initiating a course of medication," says Dr. Jonathan Oheb, Chief of Orthopedic Hand and Upper Extremity Surgery at the North Valley Orthopedic Institute.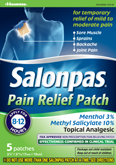 "Ibuprofen, naproxen and even aspirin can cause stomach upset, and even ulcers, in a worst case, when not administered at the right dosages," says Dr. Aristotle Economou. Topical pain relievers such as creams, gels, patches and sprays work locally and largely reduce, although they do not entirely eliminate the systemic risk – accidental or otherwise – that OTC pain pills can present.  There are a variety of non-invasive techniques, procedures, specific acu-points and philosophies surrounding pain relief worldwide. With a topical, you can deliver much less medicine to the body because you're applying it directly at the site of pain.  The Salonpas® Pain Relieving Patch and the Salonpas® Arthritis Pain Patch are the first topical non-steroidal anti-inflammatories (NSAIDS) approved through the FDA's rigorous New Drug Application process which is the same process used to approve prescription medicines."
For more information on living a healthy lifestyle, please "like" Salonpas on Facebook and follow us on Twitter and Google Plus!