It's a New Year and an ideal time to reflect on our lifestyle and what we can do to ensure we are living our healthiest lives. Americans endure more pain than any country in the world, not to mention the 50 million Americans that endure chronic pain. In response, Americans have consistently reached for pills as their first line therapy for managing pain.
This first choice is not the way it is in other parts of the world and using pain pills exclusively may be adding to concerns around oral Opioids and NSAIDS (e.g. Diclofenac, Ibuprofen, Naproxen Sodium or the analgesic acetaminophen), both of which have benefit but also come with significant risks, especially if used beyond the label. For all OTC pain medications, topical or internal, it is important to read and follow label directions and warnings, including consulting a physician. Pain which is prolonged, or recurring may indicate an underlying disease or disorder which can progress if not evaluated and treated.
Oral pain relievers, mainly opioids and NSAIDs, are leading causes of Serious Adverse Events (SAE's).
Since 2000, over 200,000 people in the USA have died from overdose of prescription opioids3
Between 3,200 and 16,500 deaths a year are attributed to NSAIDs for GI Bleed & CV risks4
Once weekly NSAID use occurs in an estimated 70% of 65 and older population, and is a leading cause of hospitalization in this age cohort. Preventable hospital admissions in this group was found to be as high as 11%.5
In the U.K., oral NSAIDs are responsible for 30% of hospitalizations due to adverse drug reactions. The U.K.'s National Institute for Health and Care Excellence (NICE) issued guidelines to use topical analgesics as a first-line treatment in managing pain in older patients.6
Topicals are a safe and effective alternative pain management
The United States Center for Disease Control (CDC) issued guidance and training modules on prescribing opioids for chronic pain. In Module 2, "Treating Chronic Pain with Opioids", the CDC clearly suggests Topical Analgesics should be considered a first-line treatment for pain.7
Can use topicals as an alternative first-line treatment
Examples: Lidocaine, Capsaicin, Topical NSAIDs
Can be safer than Systemic Medications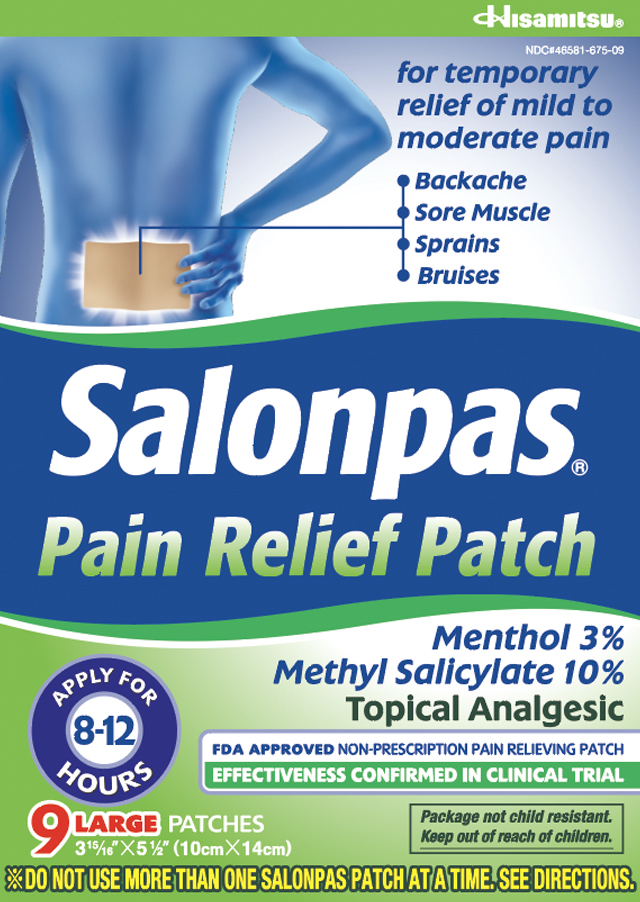 Salonpas® Pain Relief Patch LARGE efficacy has been clinically demonstrated, and it remains:
The first and only FDA approved topical NSAID
The only OTC pain reliever labeled to treat mild and moderate pain
The strongest labeled pain reliever you can buy without a prescription
Clinical research is demonstrating that topical analgesics are effective and safe. Hisamitsu's goal has always been to advance the benefits of topical analgesics treatments, especially their pain-relieving effects and the feeling of invigoration they offer. Nowhere is this objective better expressed than in our corporate maxim, "Salonpathy". This word was derived from SALONPAS®, one of our key products. Under the banner of Salonpathy, we are actively promoting better health for people around the world, offering a range of pain relieving patches and pharmaceutical products. As the 21st century begins, we are responding to basic needs that unite people everywhere. Good health, freedom from pain and a lifestyle rich in vitality, is the foundation for all we do at Hisamitsu. Our business strategy is designed to develop new medical products and drugs commensurate with our core competencies in topical analgesics. This is our mission, to make topical care available for all who seek it—anytime, anywhere.