Prestigious Medical Societies Recommend Topical NSAIDs as First-Line Therapy
ACP and AAFP endorse treating pain from musculoskeletal injuries with topical NSAIDs like Salonpas Pain Relief Patch LARGE. Announcement echoes previously established CDC guideline, and adds to growing collection of recommendations forthe use of topical pain relievers like Salonpas.
Two prestigious medical societies now recommend that physicians use topical NSAIDs, like Salonpas Pain Relief Patch LARGE, to treat acute pain from non-low back musculoskeletal injuries. In 2010, musculoskeletal injuries accounted for more than 65 million health care visits in 2010. With rising costs of healthcare and the increasing awareness of the dangers of opioids, more doctors are turning to topical NSAIDs to treat the pain resulting from such injuries. Topical NSAIDs are a safe, effective alternative to opioids and internal NSAIDs. Now, their use as a first line treatment for non-low back musculoskeletal injuries is endorsed by two of the largest doctors' societies in the United States: the American College of Physicians (ACP) and the American Academy of Family Physicians (AAFP).
Musculoskeletal injuries like ankle, neck, and knee injuries are common: they account for 15% of all ER visits and four out of five injuries treated in physicians' offices are musculoskeletal injuries. While these injuries rarely require hospitalization, physicians know they can seriously impact their patient's lives. "As a physician, these types of injuries and associated pain are common, and we need to address them with the best treatments available for the patient," said Jacqueline W. Fincher, MD, president, ACP. "Topical NSAIDs should be the first line of treatment."
The American College of Physicians is the largest medical specialty organization in the United States, while the AAFP is the only medical society devoted solely to primary care. Between the two organizations they represent nearly 300,000 medical professionals. Their membership treats a large majority of the patients in the United States who experience pain. The guidance issued by these organizations is in line with a larger trend of health authorities recommending the consideration of topical pain relievers. The CDC provides similar guidance advising that doctors consider topical pain relievers as first-line pain relief treatment, especially as an alternative to opioids.
Click here to learn about prior guidance from the CDC.
Salonpas Pain Relief Patch LARGE is strongest-labeled topical NSAID available over-the-counter
In their guidance published in Annals of Internal Medicine, the ACP and AAFP recommend "that physicians treat acute pain from non-low back musculoskeletal injuries with topical NSAIDs, with or without menthol gel, as first-line therapy." Here in the United States, methyl salicylate is a topical NSAID indicated for pain relief from musculoskeletal injury.
While a number of OTC products contain methyl salicylate as a key ingredient, there is only ONE OTC pain reliever indicated to treat mild to tougher, moderate pain, and that is Salonpas Pain Relief Patch LARGE. It's the only FDA-approved OTC pain relief patch. However, it is not the only Salonpas product that the new guidance applies to. All of the following Salonpas products have methyl salicylate as an active ingredient.
Click on the package to learn more about each product.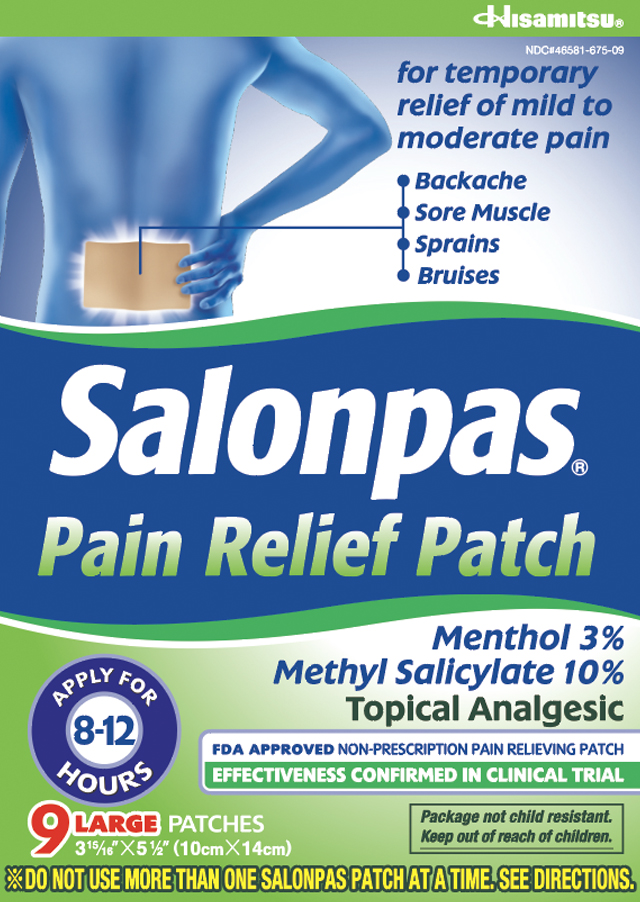 More info
Salonpas® Pain Relief Patch LARGE
The efficacy of Salonpas® Pain Relief Patch LARGE has been clinically demonstrated, and it remains:
The first FDA-approved topical NSAID
The only OTC pain reliever labeled to treat mild to moderate pain
The strongest labeled pain reliever you can buy without a prescription