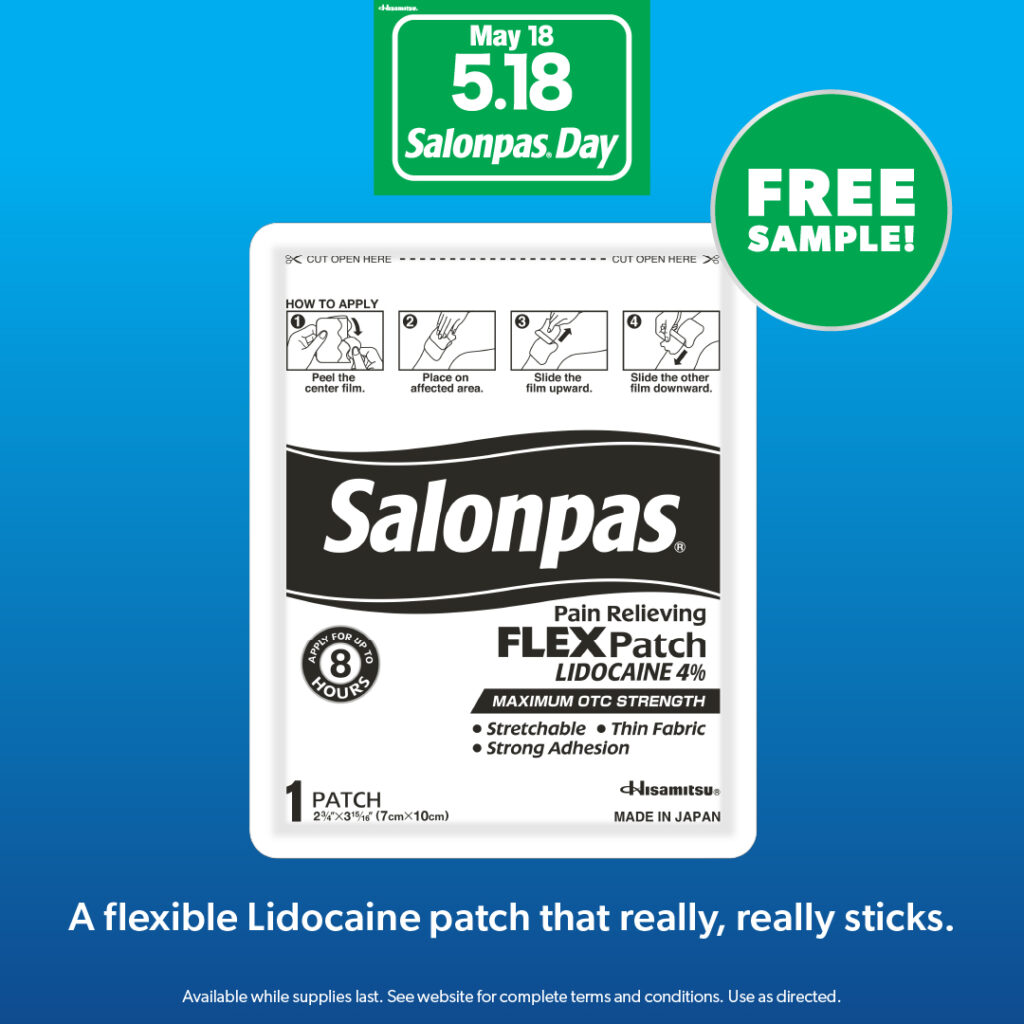 "Chicago is my kind of town," serenaded Frank Sinatra in the iconic song "My Kind of Town (Chicago is). This year Salonpas® is calling Chicago its "kind of town" with Salonpas Day, recognized every year on May 18th as a day celebrating freedom from pain, at Chicago's Maggie Daley Park.
"Chicago's 'raz-ma-taz' ensures that it is 'one town that won't let you down,'" says John Incledon, President, Hisamitsu America, the marketers of Salonpas®, the world's number one OTC pain patch brand. "Delivering pain relief directly to people on Salonpas Day is a proud tradition in the United States and across the world and we are excited to bring pain relief directly to the hard-working people of Chicago."
Brand ambassadors from Hisamitsu America will be distributing the Salonpas® Lidocaine Flex Patch (while supplies last) at Maggie Daley Park from 11:30 am to 4 pm CT. The unscented Salonpas Lidocaine Flex Patch provides the maximum OTC strength 4% lidocaine available without a prescription in a thin, flexible, highly adhesive patch that contours to the body.
Mirroring the flexibility of the Salonpas Lidocaine Flex patch will be Duo Refraction, a Chicago based circus duo who will be demonstrating their flexibility with duo acrobatics and juggling performances at the park.
"'Salonpas Day represents a day free from pain and it is important that people experience that pain relief safely," adds Incledon. "We are happy that 'Topical First' is increasingly accepted by the medical community as the first-line of treatment to safely treat pain and that the Salonpas line of products are part of their recommended treatment plan for patients."
In concert with an active sampling awareness program on Facebook, Twitter and Instagram, Hisamitsu America will be offering 50,000 1 ct. free samples of the Salonpas Lidocaine Flex Patch at TrySalonpas.com while supplies last.
Since its formation, the company mission of Hisamitsu is to improve the quality of life for people around the world through R&D, manufacturing and the sale of transdermal, i.e., topical products. Hisamitsu's culture focuses on spreading compassionate consideration to others.
Salonpas Day falls on May 18th (05/18) each year because "Kori wo Iyasu," which translates to "relieve stiffness" in Japanese, also contains references to the numbers 5, 1, and 8.
About Hisamitsu America:
Hisamitsu America is the US division of Hisamitsu Pharmaceutical Co., Inc., founded in 1847, which has specialized in transdermal drug delivery system technology since the introduction of its Salonpas line of patches in 1934. The Salonpas® product line, which gained early acceptance in Asia and is now registered in over 30 countries, has pioneered the development of transdermal patches to relieve pain. Since 2010, Salonpas has become one of the fastest growing OTC brands in the USA. Salonpas became the most popular pain relief brand on Facebook in 2020. For more information, https://us.hisamitsu/.